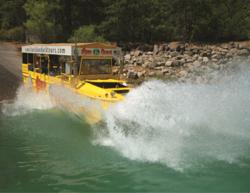 From start to finish, this was a fun and totally positive experience that gave us great memories
Bass Lake, CA (PRWEB) June 05, 2013
A new tour at Bass Lake takes guests around on something that's not quite a car nor is it really a boat.
The new Bass Lake Duck Tours shows people around the scenic resort area in the Sierra National Forest just south of Yosemite National Park aboard a DUKW, or "Duck" as they came to be called.
The "Duck" is an amphibious landing craft developed by the U.S. Army during World War II to deliver cargo from ships at sea directly to shore. Now this versatile craft gives guests 90 minute tours around, and on, Bass Lake.
So far, guests have been enjoying the ride.
"My family came to Yosemite for my aunt's birthday… we all took a Bass Lake Duck Tour and had the best time! This is a great way to have fun and learn about Oakhurst and Bass Lake no matter what age you are. From start to finish, this was a fun and totally positive experience that gave us great memories," said Jennifer from Seattle.
The guided tour will showcase the history of Bass Lake while also touching on the natural history of the area highlighting the diverse wildlife and plant life that make the area home. Patrons may even be lucky enough to catch site of one of the Bald Eagles that nest on Bass Lake during this time of year.
Bass Lake Duck Tours operates each day and will run through October 31. Private tours can be booked and will be available year round. Tours can be booked by calling 559-683-DUCK or online at http://www.BassLakeDuckTours.com.