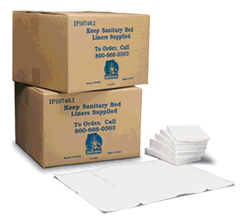 (PRWEB) June 23, 2013
The KB150-99 is a manufactured by Koala Kare, one of the most trusted names in the childcare industry. It comes in a case containing a set of 500 bed liners, made especially to fit Koala Kare changing stations . These bed liners provide the child with a disposable barrier that discourages direct contact between the skin and bed surface. Each bed liner is made of three ply biodegradable paper, which features a moisture-resistant quilt design. They are made of 50 percent recycled materials, and are 100 percent recyclable themselves. Each case is 18" in length, 13.5" in width, and weighs nine pounds when shipped.
Babystations.com is a company best-known for its world-class customer service. Although it is primarily in the business of selling quality products at affordable prices, the company makes it a point to pay attention to the human element of each sale. Being founded by a team of actual fathers, Babystations.com prides itself in being sensitive to the needs of parents and their children. In fact, the recent price drop can actually be considered a very good example of their dedication. Instead of selfishly enjoying an increase in profits by making use of significant savings attributed to operational improvements, the Babystations.com team has resolved to pass the savings on to its valued customers. The result: a significant price drop in a number of the company's most popular products, including the aforementioned KB150-99.
About the company: Babystations.com is managed by Ekom.ca. It is an online retailer with a long history of trusted service. They sell a wide array of products that include baby changing stations, child seating options, and other childcare accessories. Despite being a product-based business, the company understands the value of providing quality customer service. They provide detailed product information, give out the best prices, do their best to ease purchasing difficulties, and respond to complaints, questions, and products in the timeliest manner possible.