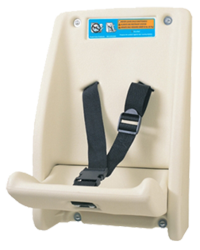 (PRWEB) June 25, 2013
Babystations.com, a trusted online retailer of baby changing stations, child seating options, diaper dispensers, and other childcare accessories, has announced a $10.00 price drop for the KB102. From the original price of $79.99, the product can now be purchased for only $69.99.
The KB102 is a product of Koala Kare, a leading manufacturer of childcare fixtures in today's market. It is classified as a child protection seat, which allows babysitting parents to tend to more urgent matters by securing their child in the safety of the seat. If you've ever had to go to the bathroom while carrying a child, you'll immediately see the potential convenience of the KB102. The entire product weighs only 6 pounds, but is designed to support a child as heavy as 50. Its textured seat surface contains the odor- and bacteria-reducing Microban® antimicrobial, and is constructed with 31% recycled materials. This green feature will sound particularly pleasing to architects and building designers who want to earn a few more credits for Leadership in Energy and Environmental Design (LEED). Like all other Koala Kare products, the KB102 also places an emphasis on ensuring the safety of the child-user. Its design and materials ensure the model's durability, while the nylon safety straps that extend over the child's shoulders and between his legs securely hold him in place.
Babystations.com was founded by three businessdads – Cameron, Matt, and Jerry. They started the company on the belief that they could do a much better job of providing for parenting needs than the other money-grubbing online stores. They offer high quality products at the most affordable prices, but focus mainly on providing the absolute best in customer service. True to this never-ending mission, Babystations.com has resolved to pass on its recent savings from key operational improvements to its valued customers. The result – significant price drops on some of the website's most popular products, including the Koala Kare KB102.
About the company: Babystations.com is managed by Ekom.ca. It is an online retailer with a long history of trusted service. They sell a wide array of products that include baby changing stations, child seating, and other childcare accessories. Despite being a product-based business, the company understands the value of providing quality customer service. They provide detailed product information, give out the best prices, do their best to ease purchasing difficulties, and respond to complaints, questions, and products in the timeliest manner possible.