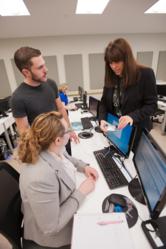 "This means the initial training period for a new employee is considerably reduced."
Arnold, MD (PRWEB) June 05, 2013
Anne Arundel Community College was recently designated a National Center of Digital Forensics Academic Excellence (CDFAE) by the Defense Cyber Crime Center (DC3). AACC is the first institution in the nation to receive this designation.
What does this tell the many employers trying to meet the huge demand for skilled cyber forensics practitioners?
Students completing AACC's now CDFAE-designated cyber forensics program are immediately ready for the workforce with proven capabilities to get the job done.
"Having the CDFAE designation will ensure employers that our students possess the hands-on ability to actually perform digital forensics incident response and are ready to hit the ground running from day one," says Dawn Blanche, instructional specialist for AACC's cyber program. "This means the initial training period for a new employee is considerably reduced."
The CDFAE program seeks to develop a partnership between academia and the government to establish standards for educators and researchers to advance the discipline of Digital Forensics. The program further aims to increase the number of qualified professionals to meet the needs of law enforcement, counterintelligence, national defense and legal communities. By combining hands-on knowledge with theory and research, the program creates a clear progression between training and education in workforce development.
DC3 views this as a workforce development initiative, and hopes to be able to bring CDFAE graduates into critical positions, says Joshua Black, acting director, DC3/Defense Cyber Investigations Training Academy (DCITA). Black credits AACC with helping to move the CDFAE program forward, and says the need for highly skilled digital forensics practitioners far exceeds the current crop of workers.
"AACC is doing a great job and we could not be where we are without AACC's help. The demand for tech smart people is high and there is still a lot to be done," says Black.
About Anne Arundel Community College
Anne Arundel Community College is an award-winning, fully accredited public two-year institution serving approximately 53,000 students each year through classes offered at more than 100 sites in Anne Arundel County or online. AACC offers national and regional award-winning studies leading to a degree, certificate, industry credential, transfer to a four-year institution or career enhancement, personal enrichment and lifelong learning.
About Anne Arundel Community College's CyberCenter
Every organization needs a skilled cybersecurity workforce. AACC's CyberCenter is dedicated to developing highly-knowledgeable, highly-skilled cybersecurity professionals to support government and industry workforce needs. AACC is a National Center of Academic Excellence in Information Assurance 2-Year Education (CAE2Y) as designated by the National Security Agency (NSA) and U.S. Department of Homeland Security and is the first academic institution to be designated as a National Center of Digital Forensics Academic Excellence (CDFAE) by the Defense Cyber Crime Center (DC3).