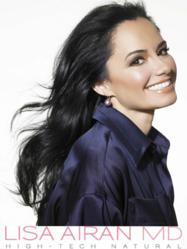 New York, NY (PRWEB) June 10, 2013
Dr. Lisa Airan, leading aesthetic dermatologist in New York City, is now sharing her expertise to a wider network through her social media platforms.
Dr. Airan has created a reputation as a pioneer in the field of aesthetic dermatology, most notably for her administration of BOTOX® Cosmetic and injectable fillers like Restylane®, Radiesse® and JUVÉDERM®. Along with her husband, noted plastic surgeon Dr. Trevor Born, Dr. Airan created the non-surgical lower eyelid lift procedure which adds volume underneath the eye, replacing that worn, tired look with a rested appearance.
Hailed as an expert in her field and noted for her sharp sense of style, Dr. Airan has been featured in numerous publications including Vogue, Marie Claire, The New York Times, Self, and WWD. She has showcased her skills on air through interviews with Oprah, CNN, CBS, and Good Morning America.
Moving forward into the digital world, Dr. Airan has now expanded her library of knowledge online through her numerous social media outlets. From skincare tips on Facebook and Twitter and before and after photos on Pinterest to backstage views of New York Fashion Week and free product giveaways on YouTube, there is always some exciting news to share with her clients and fans. Eager to share her skills and knowledge with a wider audience, Dr. Airan welcomes questions and concerns on her platforms, recommends product favorites, and shares skincare secrets.
Bio:
Dr. Lisa Airan received her B.S. from Illinois Benedictine University and attended medical school at Northwestern University. Her postdoctoral training included a residency at UCLA and a prestigious Mohs Micrographic Surgery Fellowship at Washington University. Dr. Airan practices on New York's iconic Fifth Avenue and is an assistant clinical professor at Mount Sinai Hospital. Her numerous awards and honors include the Howard Hughes Medical Institute Scholarship for Outstanding Research and the American Association for Cancer Research Fellowship Grant.
To meet with Dr. Airan, a dermatologist serving Manhattan and New York (NYC), request a consultation online or call (212) 400-0999 to schedule your appointment. For more information, make sure to follow Dr. Airan on Facebook, Twitter, Pinterest, Instagram, and YouTube.