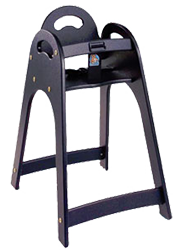 (PRWEB) June 26, 2013
The KB105 is a proud product of Koala Kare, one of the most well-known brands in the childcare industry. The product is made of high-density polyethylene (HDPE) plastic, and weighs only 14 pounds. The HDPE is much more hygienic than the hardwood, which is traditionally used to build highchairs. There are no small cracks and crevices that allow food to collect. The material is also extremely durable, resistant to scuffing, chipping, and scratching. With its sleek design and wide selection of colors, the KB105 can be a perfect addition to any modern restaurant. Because the product can be stacked, it also has the potential to save much needed floor space. The height of the chair allows a child to eat off a standard restaurant table without needing a tray. It also meets the current EN Highchair and ASTM standards.
The KB105 is easily one of the most popular child seating products on Babystations.com. The company, which is best-known for selling baby changing stations, also sells a host of other products such as the aforementioned child seats, bed liner dispensers, diaper dispensers, and childcare accessories. It was founded by three entrepreneurial dads named Cameron, Matt, and Jerry. They started the company with a simple premise – that actual fathers could better serve the needs of their fellow parents than other companies who simply don't have the experience needed. Hundreds, if not thousands, of satisfied customers later, Babystations.com now stands as one of the most trusted online stores in the industry.
About the company: Babystations.com is managed by Ekom.ca. It is an online retailer with a long history of trusted service. They sell a wide array of products that include baby changing stations, child seating, and other childcare accessories. Despite being a product-based business, the company understands the value of providing quality customer service. They provide detailed product information, give out the best prices, do their best to ease purchasing difficulties, and respond to complaints, questions, and products in the timeliest manner possible.