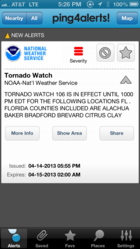 These types of value‐added services are designed to provide as much actionable information as possible.
Nashua, NH (PRWEB) June 05, 2013
Tornado season may be over, but the danger from potential deadly storms still exists. How can the 65,000,000 residents of Tornado Alley stay out of harm's way?
If they have a smartphone, they could download the app from Ping4 Inc., ping4alerts! at no cost. This app, currently being utilized by emergency management agencies from New England to California, utilizes patent-pending technology that instantly sends warnings of area emergencies to smartphones. Ping4alerts! located Richard Pepper in Indiana – or more accurately, his smartphone -- and warned him that he was in the direct path of a tornado. It saved his life.
Anyone who lives in the Midwestern United States from North Dakota, south to Texas and east to Ohio, Kentucky and Tennessee knows that when tornadoes strike, early warning may be the difference between life and death. Peak tornado season threatens residents from April to June. The average tornado is on the ground for about five minutes and every second counts. An alert from ping4alerts! could give those extra precious moments needed to reach safety.
Nighttime tornadoes are about two times more likely to kill people as those that occur in the daytime. No pubic safety warning system can turn on a TV or radio, but ping4alerts! can override the mute settings, wake up a mobile device and deliver an audible alert.
In the last three months alone, ping4alerts! has sent over 1,000 tornado warnings. This state of the art alert system is not just for tornadoes, though. With hurricane season underway, ping4alerts! is a valuable addition to everyone's safety preparedness. According to officials at the National Oceanic and Atmospheric Administration (NOAA) the 2013 hurricane season will likely be "above normal and possibly extremely active."
Ping4 Inc.'s software allows officials to notify users within an extremely localized area unique to each emergency. Each alert is highly targeted and relevant to the individual who receives it. Alerts from this app will not be ignored. "These types of value‐added services are designed to provide as much actionable information as possible," said Greg Carbin with the NOAA National Weather Service's Storm Prediction Center.
Ping4 Inc., based in New Hampshire, is an innovative software communications company utilizing the latest in push notification technology with its ping4alerts! This app enables the delivery of real‐time, location‐based, multimedia alerts to any Smartphone of crucial, time‐sensitive information with text, pictures, audio, links and maps, including extreme weather events and fast‐moving, dangerous situations. There is no downside. All information is anonymous and user information is never shared. Help us get the word out and help save lives. For more information, go to http://www.ping4.com.