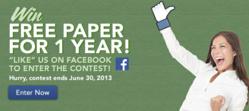 Sun Prairie, WI (PRWEB) June 06, 2013
The Paper Mill Store has announced a new contest that awards the winner Free Paper for one full year! The winning contestant will select one free ream of their choice of 8.5" x 11" paper monthly for one year. The winner will select from the 800+ styles, brand, and colors of paper available on The Paper Mill Store website, http://www.thepapermillstore.com, including metallic, linen, vellum, digital, recycled, FSC certified, and more. Each month the winner will receive the paper of their choice delivered with free shipping to their door.
The "FREE Paper for a Year" contest runs through June 30, 2013, and is open to all, with the winner being chosen at random. To enter the contest, simply "Like" The Paper Mill Store's Facebook page, http://www.facebook.com/ThePaperMillStore, then click on the "Promos" link to enter. The Facebook page will keep you informed about company promotions, new products and the latest information from their new blog, The Paper.
About ThePaperMillStore.com
The Paper Mill Store, ( thepapermillstore.com TPMS), is designed as a one-stop, all-inclusive paper resource for graphic professionals, marketers, hobbyists, and paper enthusiasts. It is an authorized, multi-mill e-commerce site providing easy access to premium text and cover papers and envelopes, regardless of their location or order size. TPMS partners with mills, local paper merchants and authorized envelope converters to provide unparalleled service, top-quality products and fast delivery. TPMS is Forest Stewardship Council (FSC) Chain of Custody (CoC) certified (SW-COC-001981), SFI (Sustainable Forestry Initiative) CoC certified (NSF-SFICOC-6T721) and buys Green-e certified wind certificates for 100% of its electricity needs. For more information, contact Daniel Halloran, (800) 790-8767, ext. 228, or halloran(at)thepapermillstore(dot)com