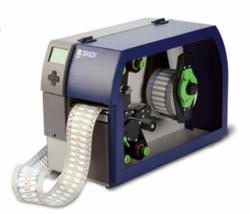 Nelco Products is proud to expand its suite of Brady® labeling solutions products to our comprehensive product line.
Pembroke, MA (PRWEB) June 05, 2013
Nelco Products, Inc. (http://www.nelcoproducts.com/), a manufacturer and distributor of the largest selection of cable ties, wire ties, heat shrink tubing, wire connectors, cable tie mounts, HVAC supply products and related wiring accessories worldwide, has announced that the company has expanded its selection of superior quality, on-demand Brady® labeling solutions for the aerospace, defense and mass transit industries.
The newly extended suite of Brady® labeling products include industrial thermal transfer printers, the highly reliable Brady® labeling systems for design software, Brady® thermal labeling materials, accessories and more.
Whether in the market for a small handheld labeler for manufacturing floor needs or a large industrial label printer to accommodate high-volume labeling needs, Nelco Products provides customers with an easy-to-use Brady® labeling solution that will most appropriately fit their needs. New product offerings, including Brady BBP™ 72 Double-Sided Printer, Bradyprinter™ PR Plus Printer, Brady LabelMark™ Label Design Software, Brady CodeSoft™ 9 Labeling Software, Permasleeve Heat Shrink Labels, Self-laminating Labels, Heatex Wire Marker Labels and more, are available to purchase online, with the option for day-of shipping, all with Nelco Products' 100 percent satisfaction guarantee.
For more information and to view Nelco Products' Brady® labeling solutions, materials and accessories, visit http://bit.ly/11ZEb6M or call toll-free at (800) 505-6352.
QUOTES:
"Nelco Products is proud to expand its suite of Brady® labeling solutions products to our comprehensive product line," said Todd Cowden, national sales manager of Nelco Products. "Brady's powerful, high-performance industrial printers and label makers will offer customers a unique identification and labeling solution to fit their particular industry and needs."