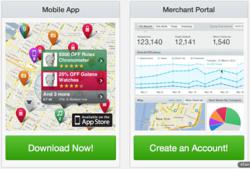 BlastTV is excited to offer the exploreka solution to our customers, it is a unique way to manage promotions and provides direct access to the consumer
New York, NY (PRWEB) June 05, 2013
exploreka announced today a new partnership with BlastTV. The deal allows exploreka and BlastTV to provide additional value to BlastTV advertisers and venues by giving them the opportunity to extend their offers to mobile device users via the unique exploreka app and merchant promotions platform.
Signed May 24th, this relationship expands the reach of exploreka to Florida. exploreka will now be offered to thousands of BlastTV venues and advertisers within the next 12-24 months. "We at BlastTV took one look at the exploreka solution and just knew we wanted to integrate it with our platform to provide exploreka to our advertisers and venues! BlastTV is excited to offer the exploreka solution to our customers, it is a unique way to manage promotions and provides direct access to the consumer," said Steve van Zutphen, Founder and CEO of BlastTV.
"With this partnership, exploreka is really gaining ground in our user base, both on the app and merchant sides of the solution," said exploreka founder, Jules Ngambo. He went on to note, "Businesses are seeing value in providing exploreka to their merchants and retail customers. It's really starting to take off now that people are seeing the tremendous benefit of using a self managed promotions portal versus group buying."
About exploreka
exploreka provides merchants with an effective location-based mobile strategy to reach customers and consumers by putting a deals platform in their own hands for the ability to push deals in real-time to consumers' mobile devices. For users, Exploreka is a mobile application for the iPhone, iPad and iPod Touch connecting people to all the great deals and discounts in their area. Exploreka's social commerce program invites anyone to receive daily discounts for their favorite restaurants, spas, sporting events, hotels and other local attractions in major cities. For merchants, our unique product includes an online advertising platform for merchants to create and manage their own discounts and promotions and a smartphone location based app for consumers to search and discover deals in their area. The platform provides increased engagement, targeting and measurement capability over other advertising platforms.
About BlastTV
BlastTV is the world's first social internet powered TV and hyperlocal ad network. BlastTV mixes artist created themes, channels, social content, and hyperlocal advertising to create an incredible and completely customizable show that's like nothing you've ever seen before. BlastTV's revolutionary neighborhood advertising platform gives power to the seemingly infinite number of small business locations around the world. Using BlastTV, small business owners place ads on selected TVs at BlastTV locations in their community with pinpoint accuracy via BlastTVLive.com and our forthcoming BlastTV mobile apps. Business owner generated ads are uploaded and dynamically mixed with incredible content from the internet's most talented independent artists and content creators.