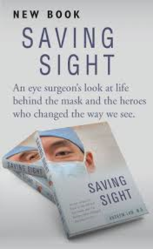 In his book, Lam takes readers into the operating room, offering an unflinching look at a surgeon's approach to eye trauma, cataracts, LASIK, retinal detachments, macular degeneration and more
(PRWEB) June 05, 2013
Eye surgeries are the most commonly performed operations in the world. Today's patients have high expectations: those with perfect vision want to see perfectly without glasses and those with poor vision are desperate to improve their sight. Now, more than ever, eye doctors can deliver what patients want.
Andrew Lam, M.D., retinal surgeon and author of the new book, Saving Sight, says we are living in a golden age of sight-saving treatments.
"Eye surgeons remove cataracts in minutes and perform LASIK surgery yielding instant 20/20 glasses-free vision," he said. "They can also implant microchips that return sight to the blind."
In his book, Lam takes readers into the operating room, offering an unflinching look at a surgeon's approach to eye trauma, cataracts, LASIK, retinal detachments, macular degeneration and more. The author also blends his personal story with profiles of ophthalmology's greatest heroes, men whose inventions have saved the sight of millions around the world.
"Dr. Andrew Lam, a distinguished retinal surgeon, has written a wonderfully readable book about the heroic lives of the great inventors in his field," offers two-time Pulitzer Prize winner Richard Wilbur. "The layman will be carried away by Dr. Lam's clear, colloquial story-telling, and he will also gain, as I did, a far clearer knowledge of the human eye."
Dr. Lam is a retinal surgeon with a history degree from Yale. He is an Assistant Professor at Tufts University School of Medicine, has authored numerous scientific articles, and is an expert at treating diseases of the vitreous and retina. Prior to subspecializing in retinal surgery, he performed cataract and LASIK surgery.
Saving Sight is available on Amazon.com, Barnesandnoble.com, or via Dr. Lam's website http://www.AndrewLamMD.com ($12.95). The media may procure book samples by emailing andrew.lam(at)aya(dot)yale.edu. Dr. Lam is available for interviews or to comment on eye diseases and future advances in sight-saving treatments including gene therapy, stem cells, and artificial sight.