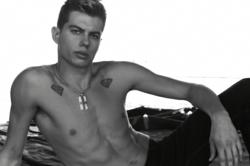 Wear Reyhan Hakki Jewelry & Look Like a Money Guy or Girl for a Fraction of the Price
Hollywood, California (PRWEB) June 06, 2013
Reyhan Hakki is excited to announce the launch of an edgy new line of unisex jewelry for the summer of 2013. This conflict-free line features distinctive statement pieces that embody the sensual duality of bold elegance.
Reyhan Hakki is the first collection by Hollywood-based artist Lawrence Clay. His premiere line pays tribute to the boldest Hollywood nightlife ensembles by immortalizing them in quality materials that last a lifetime. Featuring unisex dogtag pendants, kite-shaped earrings, and stainless steel chains crafted from the high-grade 925 Silver and diamond strength crystals, Reyhan Hakki ensures your clubwear looks stunning in and out of the club.
Field-tested durability and allergy-friendly materials set Reyhan Hakki's jewelry apart.
Durability is the key component which defines Reyhan Hakki Fashion Co.'s premiere line of street fashion inspired chains, earrings and pendants. By using only the highest quality steel, silver, and precious stones, these pieces won't fall apart in the gym, during work, or on the dance floor. Shatterproof precious stones are firmly lodged inside high grade silver, alloy, titanium, tungsten, and brass metals that are resistant to most scuffs, dents, and scratches.
Allergy friendly materials also make this line accessible to sensitive skin types. Reyhan Hakki's 925 Silver jewelry line avoids nickel, the skin irritant notorious for leaving unsightly blisters and scars. This premiere line is also free of toxic materials such as lead, mercury, and arsenic, still found in many commercially sold dogtag pendants. Reyhan Hakki is proud to provide customers with the finest and latest allergy friendly jewelry.
"What is left out of a piece is as important as what goes into it. Your jewelry shouldn't make you sick, it should make you shine," enthuses Clay, motioning to his best selling 925 Black and White CZ Unisex Mini Pendant Dogtag. "This line brings the glamour and sparkle of the Hollywood nightlife scene to everyday life, so everyone has something to shine for."
For additional information, check out http://www.reyhanhakki.com/. For high resolution images and to borrow pieces for editorial photo shoots, please contact Reyhan Hakki Fashion Co at customercare(at)reyhanhakki(dot)com, or by phone at 213-760-5608.
Contact: Reyhan Hakki customercare(at)reyhanhakki(dot)com 213-760-5608