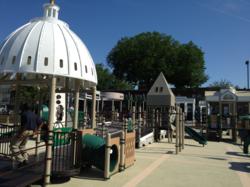 "innovative playground designs...to enrich the lives of children."
Washington, DC (PRWEB) June 06, 2013
Sparks@Play, LLC, the Landscape Structures, Inc. playground consultant in Maryland, DC, and Virginia, is pleased to announce a new business venture to serve the District of Columbia. Sparks@Play D.C., LLC will provide LSI play equipment, Poligon shelters, EasyTurf products, and PebbleFlex and AquaFlex surfacing options for playground and water play. Our unique blend of construction knowledge and exceptional products will enhance parks, schools, and private developments throughout DC.
"We hope to better serve the needs of our clients in the District of Columbia with this new enterprise," said Stephanie Sparks, one of the principals of the new enterprise. "Sparks@Play wants to continue to bring innovative playground designs with fun features to schools, parks, and private play spaces to enrich the lives of children."
A history of great projects in DC, such as the new inclusive playground at Rosedale Recreation Center, and award winning projects in Maryland and Virginia provide creative play spaces. Notable projects include JT's Grommet Island in Virginia Beach and the Indian Creek playground in Berwyn Heights.
Sparks@Play DC, LLC will offer full service design to installation services and brings the experience and knowledge we've gained at Sparks@Play in our work for parks and recreation, public and private schools, the military, the federal government, and private developers.