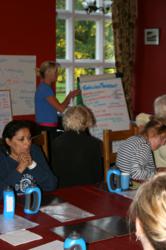 Holistic fitness boot camp clothing range coming this summer
(PRWEB UK) 13 June 2013
FitFarms is known to the UK fitness and weight loss industry as the residential weight loss camp that does not provide a boot camp mentality to get short term results. Instead they support their guests through a weight loss retreat experience that guests never forget.
This summer they are launching a fitness boot camp range of clothing which may seem to some a little odd as they are far from a boot camp style company.
The FitFarms fitness boot camp range has been created to support those people who are exercising outside in all weathers as they will need clothing that is strong and durable.
FitFarms was established in 2006 and has three weight loss boot camps in Derbyshire, Somerset and their newest retreat in Dorset.
The company's head quarters are based at Exeter business park but the new fitness clothing company will run from the Worcester office.
There fitness clothing range will cover all the different types of sportswear on the market from track suit bottoms to leggings and even fitness hats for the summer and winter.
The company has already had some interest from a major fitness and running shop and will be looking at retailing the clothing line to the general public as well as the hundreds of women and men attending the weight loss retreat from all over the world.
The majority of the clothing will be online at first and there will also be a shop at the fitness retreats where guests can purchase the fitness boot camp range directly from FitFarms weight loss retreat team on site.
The FitFarms team are also excited as they all get to wear the new clothing range when they are working on the weight loss retreat programmes.