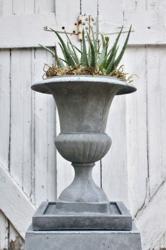 Giacco's original designs resonate with the handcrafted, artisan movement that is making waves across the country. Each NativeCast piece stands out in your home or garden as a creative sculptural work of art
Philadelphia, PA (PRWEB) June 06, 2013
The Garden Media Group name has long been associated with home and garden. Since its founding 25 years ago, the Philadelphia based company has helped build national and international brands such as Costa Farms, Fall Creek and Terrain. Now, with its recent partnership with Pennsylvania based hand cast planter designer, NativeCast, the company has come back to its roots.
NativeCast planters are decidedly different. Each piece is conceived, created and individually hand cast by designer Ricky Giacco in his Chadds Ford, PA studio. Made from a unique mix of concrete, sand, seashells and other natural materials native to the mid-Atlantic, the containers are incredibly durable and surprisingly lightweight.
Katie Dubow, creative officer at Garden Media, comments, "Giacco's original designs resonate with the handcrafted, artisan movement that is making waves across the country. Each NativeCast piece stands out in your home or garden as a creative sculptural work of art."
Giacco has a long history of working in cast stone, producing counter tops and large custom pieces before starting NativeCast in 2010. His designs quickly garnered national exposure when he was chosen for the "Young Designers Showcase" at the prestigious New York International Gift Show. It was then he realized he needed assistance.
Giacco explains, "I have a passion for design, function and horticulture and environmentally responsible business practices that are integral to my work, but I'm not a publicist. With Garden Media's help, I can focus on creating new designs and product offerings while Garden Media can expand our national reach."
Giacco's current designs are just the beginning. Look for new products this spring and be the first to display your plants in a handmade work of art.
Find NativeCast online at NativeCast.com and 'like' them on Facebook at NativeCast.
Garden Media Group specializes in the home, garden, horticulture, outdoor living, lawn and landscape industries, and offers innovative PR campaigns designed to secure top media placements and partnerships with both traditional and social media. For gardening tips, tricks, and new product announcements, visit their blog.