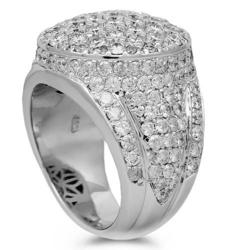 Manhattan, New York (PRWEB) June 06, 2013
Diamond Pinky Rings exude class and sophistication unlike any piece in a gentleman's wardrobe. While traditionally limited to solid gold wedding bands and school rings, men's wardrobes have gone through a renaissance in recent years with the addition of elegant and bold new styles. At the forefront of this revival are the expressive and unflinching diamond rings designed by the New York City-based Avianne Jewelers. With their flagship store in New York's famed Diamond District, the master craftsmen at Avianne & Co. are constantly producing exciting new pieces that challenge traditional values by fashioning this generation's finest selection of jewelry.
A new addition to their extensive collection of Pinky Rings for Men, the Cascading Diamond Pinky Ring is composed of a 14k white gold setting flooded with 4.50 carats of brilliant white round cut diamonds. A dynamic new piece, the Cascading Diamond Pinky Ring is handcrafted with the finest materials and some of the most challenging and demanding techniques in the industry. Using micro-pave settings, the diamonds on the ring were secured with an astonishing level of patience and dexterity under a microscope with each diamond being placed within micro-millimeters of the stones surrounding it.
Specially priced at $5,839.00, the Cascading Diamond Pinky Ring is an exciting and bold new addition to the extensive collection of Mens Pinky Rings designed by the jewelers at Avianne & Co.