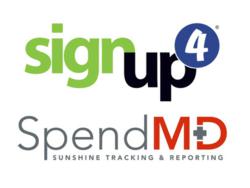 As the August CMS deadline draws closer, the urgency for a comprehensive data aggregation and reporting solution has become absolutely essential.
Atlanta, GA (PRWEB) June 11, 2013
SignUp4, the leading provider of strategic meetings management technology, announced today it has formed a strategic alliance with Aggregate Spend Solutions, LLC. SignUp4's Spend Management System (SMS) allows event professionals to collect meeting spend data to drive compliance and recognize measurable savings. With the need for transparency and accountability weighing on healthcare meeting professionals, technology suppliers must factor in additional tools to further support expense management. SpendMD, Aggregate Spend Solutions' comprehensive product, is the only complete solution for tracking and reporting transfer of value at investigator meetings or any meeting where healthcare providers (HCPs) receive varying types of compensation from sponsors in exchange for their involvement. This partnership offers a secure solution for the collection of data required by the Sunshine Act, also known as the Physician Payment Sunshine Act (PPSA).
"The coming of the PPSA has been public knowledge for some time, a couple of years actually," said Matt Curry, Director of Business Development at SignUp4. "During that time of which, our focus and development strategy has remained in line with Strategic Meetings Management best practices. With that said, we believe that by partnering with an industry leader in aggregate spend technology – as opposed to attempting to build this out in full – we're providing maximum value to our clients, specifically in the healthcare space."
As of August 1, 2013 the Sunshine Act is requiring the collection of data from manufacturers of drugs, medical devices, and medical supplies covered by Medicare and Medicaid to be reported to the Centers for Medicare and Medicaid Services for all payments made to HCPs and teaching hospitals. With this deadline looming, the integration between SignUp4 and SpendMD will ensure its clients are prepared for reporting requirements based on the new legislation. The powerful automation will enhance productivity and offer a seamless integration for those pharma and medical meeting managers who are concerned with time and accuracy. "As the August CMS deadline draws closer, the urgency for a comprehensive data aggregation and reporting solution has become absolutely essential," said John Lewis, President and CEO of Aggregate Spend Solutions, LLC. "Our focus has always centered on the accurate capture and reporting of data from disparate sources. By partnering with SignUp4, a company known for its best in class meetings management solutions, we feel that we can bring our SpendMD product to an audience that truly appreciates a consolidated technology solution."
About SignUp4
SignUp4 is the innovative meetings intelligence provider offering the highest quality strategic meetings management solutions with an affordable unlimited usage model. The goal of SignUp4′s meetings intelligence suite is to streamline workflows, simplify and drive registrations, efficiently manage travel logistics, improve communications, and provide visibility into meeting spend for leveraging contract negotiations and increasing ROI. With over a decade of experience, 3,500 users and over 80 of the Fortune 500, we understand the value of your time and events. Learn more at http://www.SignUp4.com follow us @SignUp4.
About Aggregate Spend Solutions
Aggregate Spend Solutions, LLC was formed as a result of the new and stringent reporting requirements of the Physicians Payment Sunshine Act. SpendMD™, sunshine tracking and reporting is the organization's key software product that provides the Health and Life Science Industries with the only complete solution for tracking and reporting "indirect spend" for HCP Meetings. Based in Raleigh, North Carolina with global development centers, Aggregate Spend Solutions is a key leader in the design, development, implementation and support of data aggregation products and services. For more information, please visit http://www.spendmd.com.