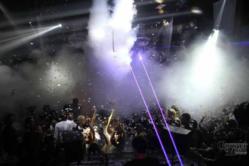 When it comes to club effects, more and more club owners are calling on Kryogenifex
Miami, FL (PRWEB) June 21, 2013
CO2 special effects from Miami-based Kryogenifex are rapidly gaining popularity with club owners and event planners. Club effects, flashing lights, and great times are what most people look for when it comes to going out to a dance club or having a great event. And when it comes to club effects, more and more club owners and party planners are calling on Kryogenifex, a company based in a city that certainly knows how to throw a party, Miami, to provide them with advanced CO2 special effects.
Using cryogenic gasses and liquids, such as liquid nitrogen and CO2 to create special effects and stage effects is catching on very fast, with some of the biggest, wildest, and best-known clubs. Indeed, the rapid rise in popularity of liquid nitrogen special effects systems, such as the one found at Space Nightclub, has caught many in the entertainment industry off guard. Now, some of the largest suppliers of club effects are scrambling to accommodate this new demand.
Among the few who saw the CO2 special effects trend taking off the way it has is Alejandro Gonzalez, the mind behind Kryogenifex and the company's CEO. To him, the huge popularity of these systems is a no-brainer. He contends that his company is redefining the club experience by transforming it into live art. Club owners, event organizers, and party throwers seem to agree, and find themselves lining up to have Kryogenifex put the "live art" touch on their clubs and parties.
If you've spent time in any of the hottest clubs recently, such as Space Nightclub, Hakkasana Las Vegas, Marquee Las vegas, and Greystone Manor, then you've probably seen Kryogenifex products at work. The Kryogun and Kryopak, which allow users to easily and safely create CO2 special effects, are becoming staple items at some of the biggest, best-attended parties. And no club or bar that wants to attract new clientele can be without products from Kryogenifex's Kryokitchen line. This line includes products that bartenders use to make smoking shots and cocktails. These ice cold drinks, which appear to be smoking because they are releasing CO2, have become wildly popular, especially with the younger crowds. In Miami there are currently hundreds of clubs, bars, and restaurants that are now serving smoking shots and cocktails. And in places like New York and Los Angeles, this trend is also exploding in popularity.
Kryogenifex was one of the first companies out there that could offer clubs and event planners everything they needed - from concept design and safety training, to installation and maintenance - for unique, eye-catching CO2 special effects. The company is focused on continuing to grow and developing products that make life more fun across the world. To learn more about Kryogenifex and its out-of-this-world products, visit Kryogenifex.com.