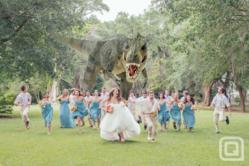 Make your speech DINOmite!
Cleveland, OH (PRWEB) June 08, 2013
Some couples are opting to choose more nontraditional photos for their weddings. The Huffington Post recently noted the Lowder wedding – where the entire wedding party ran screaming from a Tyrannosaurus Rex. The photo has gone viral and many have said it's the "best wedding photo ever."
"I just wish I had that kind of talent," said Laugh Staff consultant Kali Fencl. "Writing maid of honor speeches is more in my wheelhouse - I'm a wordsmith. I would LOVE to be able to take a great picture like that, but unfortunately I'm only good at Instagram and I've been told on numerous occasions that doesn't count."
Creativity goes a long way - especially when it comes to weddings. A viral photo like this one provides so much entertainment - not just for the the happy couple, but strangers looking for funny things on the Internet. It is a way people who have never met can bond.
"I think we'll be talking about this photo for years," said Laugh Staff consultant Curtis Cook. "I can only hope to write a best man speech that people will be talking about as much as this picture. This is Quinn Miller's crown and glory."
A picture is worth a 1,000 words, but the comedians and writers at Laugh Staff agree that Quinn Miller's depiction of a wedding party running away from a T.Rex is priceless.
For more information about Laugh Staff Inc. and their speech writing services visit http://www.laughstaff.com or email info(at)laughstaff(dot)com.
About Laugh Staff:
Laugh Staff, Inc. was founded in 2012 by a team of comedians and writers in Cleveland, Ohio. Laugh Staff helps their clients with best man speeches as well as providing best man speech examplesbest man speech examples on their blog. They assist best men and maids of honor in speech-editing, speech writing, and provide training on speech delivery. Recognizing the importance of the big day, Laugh Staff's professional comedians work with best men and maids of honor to ensure they make a lasting impression.