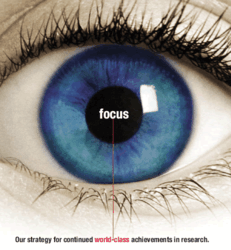 Mechanicsburg, PA (PRWEB) June 07, 2013
The Need
Congress has designated 2010-2020 as the "Decade of Vision" to acknowledge the very real public health need and challenge of vision loss. (H. Res. 366 and S. Res. 209) Over 78 million Baby Boomers will be turning 65 over the next decade and will be at risk for age-related eye diseases, such as age-related macular degeneration (AMD), diabetic retinopathy, glaucoma and cataracts.
How Does Research Save Lives
In recent years research has uncovered major biochemical breakthroughs that may lead to future treatments for some of the most common causes of vision impairment.

Researchers have been able to identify gene variations associated with age-related macular degeneration (Results posted online from Nature Genetics);
Omega-3 fatty acids have been suggested to prevent or decrease severity of retinopathy of prematurity by protecting against abnormal blood vessel growth (Study, led by Lois Smith, M.D., Ph.D., professor of ophthalmology at Harvard Medical School, Children's Hospital Boston);
Studies have demonstrated that nutritional supplements such as zinc and antioxidant vitamins can reduce vision loss in people at high risk of developing advance AMD (Nationwide clinical trial; reported in the October 2001 issue of Archives of Ophthalmology) and;
Research has demonstrated that pressure-reducing eye drops can delay or prevent the onset of glaucoma (June 2002 issue of Archives of Ophthalmology).
Research has also allowed for the first implantable device to treat advanced retinitis pigmentosa to be available at several clinical centers across the U.S. later this year. The system took more than 15 years to develop and test. It uses a video camera attached to a pair of eyeglasses to capture images. The images are sent to a video processing unit that wirelessly transmits data to an implanted retinal prosthesis. The prosthesis, containing 60 electrodes, sends signals to the brain. Research supports the work of hundreds of talented vision scientists engaged in a diverse range of disease-oriented research.
The Bottom Line
More than 38 million Americans age 40 and older are blind, visually impaired or have an age-related eye disease, and the number is only expected to grow as the population ages. Increased investment in eye and vision research is needed now to help reduce that number. For more information on vision research visit; http://www.pablind.org or call the Pennsylvania Association for the Blind at 717-766-2020.
Contact: Katie Schock - PA Assn. f/t Blind Phone: 717-766-2020 Email: Katie.schock(at)pablind(dot)org
Beaver Co. Assn. f/t Blind, Berks Co. Assn. f/t Blind, Blair/Clearfield Assn. f/t Blind & Visually Impaired, Blind & Vision Rehabilitation Services of Pittsburgh, Bucks Co. Assn. f/t Blind, Butler Co. Assn. f/t Blind, Cambria Co. Assn. f/t Blind & Handicapped, Center f/t Blind & Visually Impaired, Central Susquehanna Sight Services, Center for Vision Loss, Chester Co. Branch Inc. - PAB, Fayette Co. Assn. f/t Blind, ForSight Vision, Greater Wilkes-Barre Assn. f/t Blind, Community Services for Sight, Keystone Blind Assn., Lackawanna Branch –PAB, Lawrence Co. Assn. f/t Blind, Montgomery Co. Assn. f/t Blind, North Central Sight Services, NuVisions Center, South Central Blind Assn., Susquehanna Association f/t Blind & Vision Impaired, Vision Resources of Central PA, Venango Co. Assn. f/t Blind, The Sight Center of Northwest PA, Washington-Greene Co. Blind Assn., Westmoreland Co. Blind Assn.