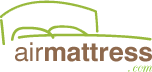 Utah (PRWEB) June 06, 2013
AirMattress.com is celebrating its one year anniversary working with Journeys DDA—a local business providing developmental therapy services for adults and children with disabilities. In their network with Journeys, AirMattress.com has hired several clients with disabilities, which has improved their workforce.
One year ago, Todd Stowell, Journeys' director of vocational services, approached AirMattress.com about hiring some of Journey's clients. AirMattress.com accepted, wanting to give people with disabilities a chance, and at the same time, supporting local companies.
Stowell explains Journeys' purpose is to connect people with disabilities to potential employers. Some clients have been employed before or struggle to keep a job longer than a few months. For this reason, an employee has a job coach and as Stowell says, "Between the job coach and the employee, we get the job done." After about six months, employees go solo, capable of doing the job on their own.
Daniel Godby is a client that uses Journeys' job services. Godby was at another provider of developmental services before he decided to switch to Journeys. Talking about his previous experience Godby says, "They tried for a year and a half, and they couldn't find me a job." While other companies similar to Journeys provide development therapy, it was the job services that drew Godby to the company. Godby adds, "After being with Journeys for about a month, they found me this job."
"This job" was working for AirMattress.com, where he has been employed for nine months. Godby first started doing janitorial services around the office, but wanted something more full-time. He then moved into the warehouse working full-time.
AirMattress.com has been impressed with the positive attitudes of all their new employees. This, among other reasons, is why AirMattress.com continues to create awareness for Journeys and its programs. For people with disabilities, companies like Journeys can help them find jobs and make other positive steps forward. Working in a 30,000 foot warehouse requires a lot of upkeep for the company, but all the employees work to maintain an efficient facility. AirMattress.com believes it has been a great transition, and they hope other workplaces provide similar hiring opportunities.
About AirMattress.com
AirMattress.com offers a wide variety of top quality airbeds from six different brands. Each product is provided with a custom review from the specialty site as well as a warranty. AirMattress.com is the best place to find demonstration videos, customer reviews and detailed photos of the product prior to purchase. Customer satisfaction is the top priority, providing the best customer service and only the best airbeds for a great night's sleep. For more information, please visit http://www.airmattress.com or call us Toll-Free at 1-800-378-5817.