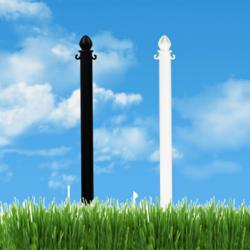 Tampa, FL (PRWEB) June 18, 2013
After months of research, development and testing, CrowdControlStore.com is now making its high-quality outdoor plastic stanchions available to the public. These plastic stanchions were designed by industry specialists and will now be manufactured in house in order to keep their cost to the customer below retail price. They have been tested to withstand high levels of heat, impact and exposure to UV light from the sun. These outdoor and gardening stanchions come in a convenient 12-post kit and have many beneficial uses, including landscaping, outdoor crowd control for special events, fairs, festivals, art shows, catering events and much more. They are available in either black or white and are approximately 2.5" wide and 34" tall, with each stanchion ending with a sturdy reinforced spike to insert into the ground. These stanchions are lightweight and may be easily moved or stored. Suggested chain options include: 1.5" Plastic Chain (50ft. bag) or Custom Cut Plastic Chain, which are sold separately.
For a full range of Stanchions, Barriers, Barricades, Traffic Safety Equipment, Plastic Stanchions, Wall Mount Units and much more, visit us online at CrowdControlStore.com or call us at 866-715-6006.