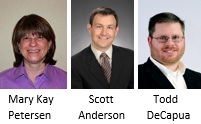 Boulder, CO (PRWEB) June 11, 2013
Vivit, the independent, worldwide HP Software user community, today announced the 2013 Americas award winners. The Vivit Board of Directors presented the Champion of the Year Award to Mary Kay Petersen, Leader the Year Award to Scott Anderson, and Speaker of the Year Award to Todd DeCapua. The Americas Awards are presented each year and winners are chosen from a select group of talented volunteers who are member-nominated because they have demonstrated excellence and outstanding service to the Vivit Community.
This year marks the fifth anniversary of the awards presentation. Martijn Stuiver, Chapter and Special Interest Group Chair, Vivit Board of Directors, said, "These awards are given with great pride showing appreciation for the outstanding volunteer service each individual has demonstrated this past year. To be nominated by fellow members, shows how well respected and talented these individuals are in the IT industry. I expect the number of nominees for these awards will continue to grow in the coming years since Vivit is the ideal outlet for professional contributions and career development."
Mary Kay Petersen, 2013 Champion of the Year, serves the HP Software community as a Chapter Leader in Oregon and as a Special Interest Group (SIG) Leader for the HP Service Management SIG. She hosted numerous webinars this past year covering HP Service Manager, Asset Manager, and uCMBD topics and has been instrumental in growing the HP Service Management SIG to over 360 members.
Mary Kay has worked in the field of information technology for over 25 years and has been with Mentor Graphics for the past 19 years serving as their Director of IT Service Management & Enterprise Security. She has been influential in adopting ITIL best practices and in implementing the following: HP Business Service Management for Enterprise Monitoring, HP Service Manager for Global Help Desk & Operations and HP Asset Manager for managing IT Assets and Contracts.
Scott Anderson, 2013 Leader of the Year, was recognized for his leadership of the Iowa Chapter and for sharing best practices across the HP Software Community. For the past five years, he has organized quarterly Iowa Chapter meetings along with his co-leaders and has been instrumental in managing the Vivit Midwest Regional events. Recently, he brought multiple local user groups together for a focused meeting on Agile Test Processes, and attendance increased by 300% -- a new best practice that has been shared.
Scott has worked in test automation for 15 years and currently works at Aviva as a Senior Automation Engineer. He is an expert on HP's Application Lifecycle Management, Unified Functional Testing, and using VB.Net to enhance testing processes.
Todd DeCapua, 2013 Speaker of the Year, serves the HP Software Community in multiple capacities. He frequently delivers webinars to Vivit members on topics related to both testing and development of best practices, and he continues to volunteer his expertise as a Leader for the Delaware and Philadelphia Chapters. He co-founded and co-leads two new Special Interest Groups, DevOps and Mobile, while also leading the Agile SIG. Over the years, Todd has received several industry recognitions, including: HP Software Universe "Best & Brightest" and 2010 Vivit Leader of the year.
Todd has worked in the field of information technology for over 20 years and is one of the technology industry's most respected thought leaders on Application Performance Engineering and Network Virtualization. He is a renowned speaker, author and visionary. Currently, he serves as Vice President of Channel Operations and Services for Shunra Software. He manages the company's Advisory Board and drives partnerships and strategic alliances. He has been instrumental in developing partnerships with HP, CA, IBM, Parasoft, Perfecto Mobile and Soasta, to name a few. He is also a member of HP's Customer Advisory Board for Performance both in US and Europe.
Share This Story Via Twitter: #Vivit Award Winners for #HPSoftware #HPDiscover.
About Vivit
Vivit is a non-profit corporation founded in 1993 (as OpenView Forum) by customers of Hewlett-Packard's Software products to represent the interests of HP Software customers, developers, and partners worldwide. Vivit represents and serves the broad HP Software and Solutions Community (including OpenView, Mercury, Peregrine, Radia, and more) and is the endorsed HP Software users group. Vivit currently has members all over the world representing all areas of business and industry.