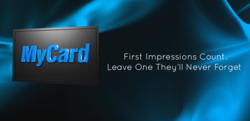 Miami, FL (PRWEB) June 06, 2013
The launch of MyCard is great news for the billions mobile phone users, who yearn for channels to express their individuality and make a real connection in a world that is too fast to notice them. The MyCard App offers a way for users to leave a memorable impression through strategic sensory stimulation in a matter of minutes. It is currently available on the Android Play Market.
Using a patent-pending technology called Dynamic Entry, MyCard allows users to dynamically share personal information and personality imprinting in an instant via multiple channels such as NFC, Text Message, Email, 2D Barcode, Wifi, Bluetooth, & more. The app's card creator allows users to design and create unlimited, highly customizable connection profiles in seconds. The information shared automatically synchronizes to contacts, and the impression left, seeds deep roots in those who receive a user's MyCard.
MyCard was designed by the pioneering mobile applications veteran Einar Rosenberg. With nearly two decades creating mobile apps, and a forefather of NFC, he has now envisioned a new level of social interaction. MyCard is the first of 12 innovative mobile technologies Rosenberg is set to launch over the next 12 months. He believes that MyCard will give users the opportunity to leave a lasting impression through channels that currently offer very limited ways in which to express their unique personality. "Our memory is affected much more by things like video, music, etc. compared to text. Your information is not memorable, but the 5 second rush of your personality that is dynamic entry is extremely memorable. So if you are receiving it the first time or you are opening it up later to contact that person, the dynamic entry gives the other person an emotional connection to you, before they email or call you." Rosenberg believes personality imprinting will be established since users will experience bits of each other's personality every time a MyCard is opened. "Think of a scent. It connects to memory more powerfully than the general memory."
MyCard App comes at the perfect time, when social media's over saturation and over-crowding have shaped a world of detachment and lack of personal connection. Having 1000s of friends in the virtual scene may not translate into 1000 real connections. MyCard intends to create an emotional link and satisfy the need for individuality and expression in the real world. No one wants to be just a number. This is the first of 12 new mobile technologies being launched by Creating Revolutions LLC.
MyCard is now available for free on the Android Play Market. It will soon be releasing on iPhone, Windows, and Blackberry.
http://www.mycardmobile.com/android.html
Learn more at: http://www.mycardmobile.com