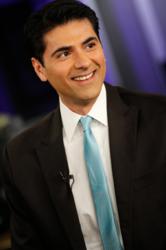 About 5 million people die a year worldwide.
Beverly Hills, CA (PRWEB) June 06, 2013
Appearing every Monday on Fox's Good Day LA, Dr. Sonu Ahluwalia speaks about noteworthy subjects in the field of health and wellness. This week, the La Peer Health Systems doctor informed viewers about new medications that can help patients stop smoking.
"About 5 million people die a year worldwide," said Dr. Ahluwalia, who went on to call smoking the largest preventable cause of death in the world.
However, the board-certified surgeon acknowledged the difficulty of trying to quit without support. Fortunately, new prescription medications make it easier for people to kick this unfortunate habit.
Anti-depressants like bupropion help patients quit by reducing tobacco cravings. Other medications bind to nicotine receptors in the brain, thereby giving patients a small nicotine buzz. Overall, Dr. Ahluwalia advised anyone thinking of quitting to talk to his doctor about prescription medications that can help.
"When the physician actually counsels the patients, there's a higher rate of quitting," said Dr. Ahluwalia. He also suggested that cigarette addicts have cause to hope, as studies now show there are more ex-smokers than smokers.
The orthopedic surgeon also spoke about the dangers of living a sedentary lifestyle.
"We spend almost half our day sitting," said Dr. Ahluwalia, who went on to reveal that the dangers of staying sedentary rival those of smoking cigarettes. To avoid these harmful effects, Dr. Ahluwalia recommended that people get up and walk around every hour.
Watch the entire news segment with Dr. Ahluwalia on My Fox LA.
For more health tips from Dr. Ahluwalia, as well as videos of his other FoxLA segments, visit his Facebook page.
Sonu Ahluwalia, MD, is an internationally acclaimed board-certified orthopedic surgeon at La Peer Health Systems, as well as the Clinical Chief of Orthopaedic Surgery at Cedars Sinai Medical Center in Beverly Hills. His private practice specializes in sports medicine, shoulder, knee and hip surgery.
Dr. Ahluwalia completed his orthopedic training at the Harvard Combined Orthopaedic Surgery Residency Program in Boston, one of the most sought after training programs in orthopaedic surgery. He has completed three fellowships, two at Harvard Medical School and one at Lenox Hill Hospital in New York City, on shoulder surgery, sports medicine, and joint replacement and joint preservation surgery. For more information please call 310.659.2910 or visit http://www.Ahluwalia.org.