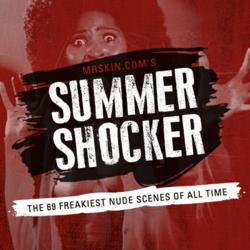 You'll laugh, you'll cringe, you won't believe your eyes, and all while seeing plenty of skin!
Chicago, IL (PRWEB) June 10, 2013
Mr. Skin of MrSkin.com--the world's #1 resource for celebrity nudity--has combed through his extensive archives to find the most mind-blowing moments ever filmed. From chocolate baths, to naked kung fu, to amorous monsters, things are starting to get really freaky on this Summer Shocker.
After thirteen years in the business, Mr. Skin is uniquely qualified to determine the most unhinged, unzipped, and graphically gratifying scenes ever committed to celluloid. MrSkin.com will unveil the 69 Freakiest Nude Scenes of All Time throughout the summer, and only the most bizarre, extreme, and outlandish nude scenes have made the cut. With only one nude scene per movie, the list will count down 10 scenes per week, until it finally climaxes with the number one freakiest nude scene of all time.
"We love all the straight and narrow nudity that mainstream movies provide, but our database also has all the weirdest scenes filmmakers could dream up." said Jim "Mr. Skin" McBride from Skin Central in Chicago. "You'll laugh, you'll cringe, you won't believe your eyes, and all while seeing plenty of skin!"
Beginning 6/9/13 you can watch the Summer Shocker progress at: http://www.mrskin.com/summer-shocker/
For media inquires on this topic and/or to book Mr. Skin for an interview, contact Pete McMurray at (312) 933-5963 or by email at Pete(at)mrskin(dot)com.
About Mr. Skin and MrSkin.com
Mr. Skin is the world's foremost authority on celebrity nudity. His website - MrSkin.com - is the #1 online resource for celebrity nudity news and reviews. MrSkin.com attracts more than 8 million users every month who come to experience the site's vast library of celebrity nudity material - more than 20,000 actress bios, 30,000 movie and TV show reviews, plus over 200,000 photos and videos. Mr. Skin is one of the most sought-after guests in radio and The Mr. Skin Minute can be heard every week on The Howard Stern Show. MrSkin.com played a pivotal role in the blockbuster Hollywood comedy Knocked Up (2007). The Mr. Skin Skinpire has been profiled in The New York Times, The Wall Street Journal, USA Today, Playboy, Maxim, The Chicago Tribune, The Chicago Sun-Times, and The New York Post. Mr. Skin has also appeared as a celebrity nudity expert on VH1, E!, BBC, and Comedy Central. Be sure to follow Mr. Skin on Facebook and Twitter.