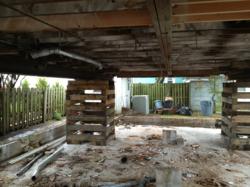 Matawan, NJ (PRWEB) June 06, 2013
Stone Creek Builders is still helping New Jersey residents properly re-build their houses in accordance with the new flood regulations. The house raising projects in both Union Beach and Sea Bright are currently underway. (See attached picture.)
Making the decision to lift a house is a difficult one and it's a choice homeowners have to start thinking about. If there are houses on the block being lifted, in order to protect and maintain the investment – lifting the house is the right choice. By raising the house, it will increase the ROI (return on investment), which is crucial given the current housing market. If there is an increase in storm activity, not lifting will further depreciate the value of an investment.
Homeowners located in a flood zone must have higher first floor elevations in order to qualify for affordable flood insurance. A lot of people in the towns affected are elderly folks whose mortgage has been paid off, so they did not have flood insurance to start with. With that being said, a lot of people are going to leave their homes and walk away from the damage.
Rutgers geographers have set up a new online tool system called NJFloodMapper.org. This interactive mapping website is intended to provide a user-friendly imagining tool that will help get data into the hands of local communities who need to make choices concerning flooding hazards and sea level rise. Viewing this guide is one way for homeowners to decide if lifting their house is the best decision for them.
Before lifting a house, it is very important to investigate the condition of the soil to make sure it can withstand the new weight of the lifted house. Stone Creek Builders works closely with Environmental Management Consultants, Inc. (EMC) who provides structural support services by completing the soil boring testing on the site of the home before it can be lifted. During the soil boring process, they drill deeply into the ground and collect soil samples, as well as blow counts. A large piston drives a rod into the ground and the distance the rod travels with each blow is recorded. The distance traveled per blow provides an insight into the soil density.
After obtaining the soil boring results, a licensed structural engineer (John Mann, an Engineer at Structural Support) evaluates the test and make recommendations for foundation construction. If the soil is non-compressible, then standard construction procedures can be used. There are many factors that can change the recommendation of the engineer, such as: height of lift, soil compression, flood zone, height of structure, existing foundation conditions, etc. Based on the findings and recommendations, the next step is to either add onto the existing foundation, retro fit the existing foundation with helical piers or concrete piles, move the house and install wood piles, reconstruct a new concrete column foundation or a combination of all of the above.
When lifting any home, it is critical to go through this process to eliminate the chance of moderate to severe settling and building collapse.
Contact Stone Creek Builders today for a free lifting consultation.
About Stone Creek Builders
The founder of Stone Creek Builders has been a leading provider of building, remodeling and restoration services for over 20 years. Stone Creek Builders provides general contracting, remodeling, insurance restoration, house lifting, and storm reconstruction services to clients in central and shore regions of New Jersey. Contact us at (732) 566-0395 or visit our website at http://www.stonecreekbldrs.com for more information.