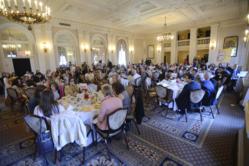 "We felt this event shone a much-deserved spotlight on the best of kids' programming right now," said Roberta Caploe, Editorial Director of Cynopsis Media
New York, NY (PRWEB) June 06, 2013
Cartoon Network, Disney, Hub Network, Nickelodeon, Scholastic and Sprout were among the winners of the second annual Cynopsis Kids !magination Awards, hosted by Inside Edition's Megan Alexander, held on June 4 in New York City. The awards honor outstanding TV programming for toddlers, kids and teens, in addition to games and e-books and marketing campaigns.
Cynopsis: Kids! celebrated leaders who have made a tremendous impact to the Kids Media industry. Margaret Loesch, President of the Hub Network was this year's Legacy Award winner, recognizing a career that has changed Kids media. In addition, Elie Dekel, President of Saban Brands, received the Leadership Award as Brand Executive of the Year. Singer/Songwriter, Laurie Berkner received the Entertainer Award, and Cartoon Network's "Stop Bullying: Speak Up" Campaign was the recipient of the Pro-Social Distinction Award.
"We felt this event shone a much-deserved spotlight on the best of kids' programming right now," said Roberta Caploe, Editorial Director of Cynopsis Media. "We were delighted to be able to provide a venue for this wonderful community to gather together."
Also, the program highlighted the 2012-2013 Kids People Award Winners. The recipient of the Brand/Advertiser Executive Award was given to Stephanie Cota, SVP of Girls Brands Worldwide for Mattel; the Digital & New Media Executive Award was presented to Matthew Evans, SVP Digital at Nickelodeon; Michele Jabloner-Weiss, Executive Director Original Programming at Disney Junior received the Cable Network Professionals Award; Dave Morgan, CEO of Litton Entertainment, was presented with the Executive Award for Program Distribution/Syndication; the Production Company Executive Award went to Sander Schwartz, President of FremantleMedia Kids & Family Entertainment; Stuart Snyder, President and COO of Cartoon Network and Adult Swim received the Award for Cable Network Executive; and the Award for Online Studio, Network & Portal Executives went to Tara Sorenson, VP of Kids Series Development at Amazon Studios.
A who's who of Kids TV -- Art Moore, Clifford the Big Red Dog, Margaret Loesch, Richard Wiese, R.L. Stine, to name a few -- packed a ballroom at The Yale Club in New York City to salute kids TV programming excellence and the executives behind it. To view the complete list of Kids People Awards, Luminaries and !magination Award winners/honorable mentions, visit http://ht.ly/lJoXh.
To view photos from the awards luncheon, go here: http://ht.ly/lJoG8
Read the Cynopsis: Kids! special edition profiling the winners at: http://ht.ly/lKc9T
ABOUT CYNOPSIS MEDIA
Cynopsis Sports is a brand of the Cynopsis Media Group, a division of Access Intelligence LLC. The Cynopsis Media family of products includes Cynopsis, Cynopsis: Digital, Cynopsis: Kids, and Cynopsis: Sports daily e-publications, weekly Cynopsis: Classified Advantage e-publication, Special eReports, Event/Summits, the industry's most robust Classifieds and more. Visit Cynopsis.com.