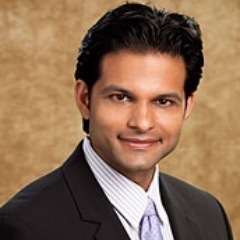 Advances in early and preventive treatment are crucial to limiting the degenerative nature of knee arthritis and to improving a patient's quality of life.
Beverly Hills, CA (PRWEB) June 07, 2013
An estimated 27 million Americans suffer from some form of osteoarthritis, a condition that causes breakdown of cartilage and bone in load-bearing joints such as the knee. For years, individuals with chronic knee pain associated with early knee arthritis have had few treatment options to limit disease progression. However, at La Peer Health Systems, an innovative treatment known as subchondroplasty now offers patients an effective solution to this debilitating condition.
The procedure is the first of its kind in Los Angeles and was recently performed by Neil Ghodadra, MD at the La Peer outpatient surgery center in Beverly Hills. Dr. Ghodadra is a board-certified orthopedic surgeon and leading expert in the use of biologic therapies for the treatment of orthopedic injuries.
"Advances in early and preventive treatment are crucial to limiting the degenerative nature of knee arthritis and to improving a patient's quality of life," said Dr. Ghodadra. "The goal of subchondroplasty is to address structural breakdown of bone during the early stages of arthritis and delay progression of the disease, while simultaneously providing pain relief."
Subchondroplasty is ideal for patients 40-75 years of age who experience chronic knee pain due to a bone defect, also known as a bone marrow lesion (BML). BMLs are thought to cause swelling and inflammation in the top layer of bone that contributes to the progression of knee arthritis. These defects can only be seen and diagnosed on MRI imaging.
During the arthroscopic knee procedure, a fiber-optic instrument is used along with fluoroscopic guidance to inject a biologic cement into the bone defect. This cement immediately hardens, stabilizing the bone and reducing irritation in the joint. Following the surgery, some patients are advised to use crutches for up to two weeks in order to reduce weight-bearing load on the knee, while others are allowed to be weight-bearing after the outpatient procedure and do not need crutches.
"Traditional treatments either do not address the underlying cause of knee pain, or do so at the expense of the entire joint," said Dr. Ghodadra. "Subchondroplasty offers patients a safe and effective alternative that both resolves the root defect and can help prevent the need for more invasive procedure such as a total knee replacement."
La Peer Health Systems is an outpatient surgery center in Beverly Hills, founded by doctors and focused on providing excellent patient care alongside the most cutting-edge medical treatments available. With 50 world-renowned physicians in 14 specialties, comprehensive medical treatment is offered that takes patients from consultation to diagnosis, treatment, surgery, and ultimately aftercare. The 14 medical departments include orthopedics & sports medicine, gastroenterology, head & neck surgery, colorectal & general surgery, podiatry, ophthalmology, pain management, plastics & reconstructive surgery, gynecology, spine surgery, interventional cardiology, bariatric surgery, thoracic surgery, and anesthesiology. Unlike large hospitals, La Peer's unique structure offers extremely personal care in a safe and controlled environment.
In the last year, 26 of La Peer's surgeons were reviewed by peers and given the Patient's Choice Award. The Patients' Choice honor is given to doctors who provide incredible service to their patients. In 2012 alone, more than 200,000 patients across America provided reviews and feedback regarding their personal treatment and experiences with doctors. The Patients' Choice award is given to doctors who receive rave reviews for their work and dedication in their medical field. More information about La Peer Health Systems can be found at http://www.LaPeerHealth.com.