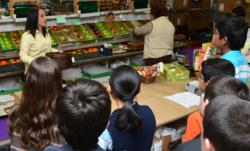 Sometimes, hands on is the best way to teach kids.
Clifton, NJ (PRWEB) June 06, 2013
Capalbo's Gift Baskets, the largest gift basket provider in the NJ/NY/CT tri-state area for over 100 years, recently opened their doors to the Walker Middle School in Nutley, NJ to show interested business students their gift basket operation first-hand.
The hour long tour was led by Susan Capalbo, Vice President of Capalbo's Gift Baskets. Over 30 students were told about the history of the popular company: how the family-owned business started back in 1906 when Rose and Domenick Capalbo came to the US from Italy, peddling fruits and vegetables door to door. Eventually, they opened a store front in Nutley in the 1920s where they remained for 80 years.
The students, part of a business oriented program at Walker Middle School, were then taken through the 40,000 square foot warehouse and production facility. Capalbo led them throughout the facility where they watched Franca Feraco and Carmen Fonseca build the company's signature "Talk of the Town Fruit Basket" from scratch. All the while, she described each step of the hand designed process.
The middle schoolers were then led to the photography studio where the graphics and catalogue team shoot all of the product photography to be used in the catalog and on the website. They got to see catalogue art in action.
"Sometimes, hands on is the best way to teach kids," says Sue Capalbo, Vice President of Capalbo's Gift Baskets. "These kids are our future and we want them to know what business is all about".
Students did not leave empty handed. Capalbo's arranged for 30 free gift boxes loaded with gourmet chocolates, cookies and fruit for everyone to take home – including the teachers – and there was no homework involved!
Customers can order via the Capalbo's website, http://www.CapalbosOnline.com, on their desktop or mobile device. The baskets and gifts can also be seen in person at their retail store, located at 350 Allwood Road in Clifton, NJ 07012, just across from the Clifton Promenade Mall.
About Capalbo's Gift Baskets
Capalbo's Gift Baskets provides fast, fresh and delicious gourmet fruit & food baskets, wine & champagne baskets, gift towers & tins and baby gift baskets to customers nationwide. Every basket is backed by a 100% unconditional satisfaction guarantee which has been the Capalbo promise for over 100 years. Customer Service Representatives, all friendly and knowledgeable, are available to assist from 9:00am to 6:00pm weekdays by phone at (800) 252-6262 or via live online chat. Visit their sister sites, winebasket.com for wine, champagne and gourmet food arrangements, and babybasket.com, for all newborn baby gift needs.