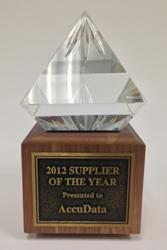 Fort Myers, Florida (PRWEB) June 06, 2013
AccuData Integrated Marketing, Inc., has been named the 2012 "Supplier of the Year" by marketing, print and graphic communications franchisor Allegra Network LLC. The award was accepted May 30, 2013 by Nathan Petel and Peter Lamphier, Vice President of Sales and Account Manager respectively, at Allegra Network's annual meeting in Plymouth, Michigan.
The annual award, voted by Allegra Network's marketing/print division franchise members, is given to a supplier that implements growth initiatives to support their businesses, offers leading-edge technologies, provides quick problem-solving avenues and strong financial incentive, and promotes strong communication.
"Allegra Network franchise members' smooth transition into offering broad-based marketing services requires strong supplier partnerships, especially in database research and technology," said Allegra Network Vice President of Technology Tim Wood. "AccuData consistently serves our Network well, paving the way for the kind of results-driven, targeted marketing campaigns our franchise members offer to small businesses and nonprofits."
"Allegra Network is a wonderful partner," said Rich Lancaster, CEO of AccuData Integrated Marketing. "We're honored to be recognized, and cheered to be making such a positive impact on franchise members as they expand their data marketing offerings. We look forward to serving Allegra Network with a pipeline of new products and services to help franchise owners grow their businesses."
About AccuData Integrated Marketing:
A leader in multi-channel marketing data, AccuData Integrated Marketing, Inc. (http://www.accudata.com) offers franchises a full range of data resources, including the technology for accessing data from a brandable platform or integrating it into an existing online storefront or web-to-print center. Based in Fort Myers, Florida, the company delivers results to more than 5,000 clients across the printing, agency, utilities, travel/hospitality, financial services, healthcare, ecommerce, retail and telecom industries. For more information on AccuData Integrated Marketing, please call 800-732-3440.
About Allegra Network:
Allegra Network LLC is one of world's largest marketing, print and graphic communications franchises linking nearly 500 locations across North America. The company ranks in the top 300 among all franchise companies in the world and is considered a leader in franchise training, technology implementation and system profitability. Allegra Network was founded in 1976 and today supports three primary brands under its print division – Allegra, American Speedy Printing and Insty-Prints, and the Signs Now brand under its sign division.