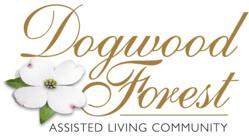 You may feel like you are facing this alone but there are people who understand.
DUNWOODY, GA (PRWEB) June 07, 2013
Dementia is one of the most difficult and confusing conditions that seniors face, but also one of the most common. Family members of seniors with dementia can find themselves feeling drained, saddened and frustrated – but locally owned senior community Dogwood Forest of Dunwoody now offers support groups to make coping easier.
Dementia is a common long-term effect of Alzheimher's disease, and earlier stages of Alzheimer's can also be stressful. The disease can cause forgetfulness and confusion for years before dementia sets in. For family members, the condition can be distressing.
Dogwood Forest is an assisted living in Dunwoody, GA with its own memory care section for residents with Alzheimer's. Trinity Lifestyles, which manages the community, saw that the condition is at least as hard on relatives as it is on residents.
"For many people it feels as if your loved one no longer knows who you are," said Kia Crawford, a spokesperson for Dogwood Forest. "They don't love you any less, but often they cannot recognize you. It's heartbreaking."
The support group is open to anyone struggling with a relative's Alzheimer's or dementia, not just relatives of Dogwood residents. Facilitated by Amity Hospice and Palliative Care, it is designed to provide coping strategies and support for relatives and caregivers alike.
"We do this as a service to the whole community," said Crawford. "You may feel like you are facing this alone but there are people who understand."
The group meets at Dogwood Forest of Dunwoody every third Tuesday at 6:30 pm. Attending is free.
About Dogwood Forest:
Dogwood Forest of Dunwoody is part of family-owned caregiving business Trinity Lifestyles. Its mission is to provide Georgia's seniors with a lifestyle of personal wellness, both for long-term residents and respite care. Dogwood Forest enhances senior living by balancing the need for mental, physical and emotional health. They can be contacted at:
Dogwood Forest of Dunwoody
Dogwood Forest of Dunwoody
7400 Peachtree Dunwoody Road NE
Atlanta, GA 30328
(770) 350-7833