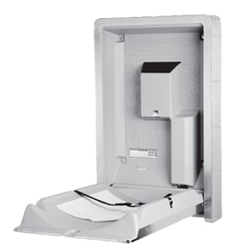 (PRWEB) June 27, 2013
The Koala Kare KB111-SSWM is manufactured by one of the most trusted names in the childcare industry. It is a wall-mounted vertical model with a stainless steel-clad surface and high-density polyethylene interior. Its design incorporates steel-on-steel hinges and an 11-gauge steel mounting bracket, both of which drastically improve durability by eliminating plastic wear points. The gas spring mechanism of the KB111-SSWM ensures smooth operation, while the built-in bed liner dispenser and bag hooks guarantee user convenience.
Despite all these impressive features however, the product's main focus is the safety of the child-user. The contoured design of the bed surface, paired with the child safety straps, prevents the child from falling off the KB111-SSWM. Moreover, the Microban® antimicrobial that completely coats the bed surface prevents bacteria and odor from spreading from child to child. It is constructed with 68 percent recycled materials, which allows it to significantly contribute to the building's LEED credits. The KB111-SSWM can even satisfy ADA building standards if installed correctly.
Babystations.com is a company that prides itself in giving the best customer service. It was founded by three proud fathers, Cameron, Matt, and Jerry. The once-small company began with one premise – that a team of dads could better answer the needs of their fellow parents than other money-hungry online stores. Hundreds, if not thousands, of satisfied customers later, Babystations.com still holds true to its original goal. The current price drop is a testament to their conviction. The company, which recently enjoyed significant savings attributed to key improvements in the operational system, has resolved to pass on these savings to its valued customers.
About the company: Babystations.com is managed by Ekom.ca. It is an online retailer with a long history of trusted service. They sell a wide array of products that include baby changing stations, child seating, and other childcare accessories. Despite being a product-based business, the company understands the value of providing quality customer service. They provide detailed product information, give out the best prices, do their best to ease purchasing difficulties, and respond to complaints, questions, and products in the timeliest manner possible.