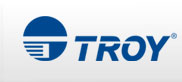 TROY Copy Evident Pantograph represents our commitment to developing progressive methods of document fraud deterrence. We continually develop innovations that help businesses stay a step ahead of those who find new ways to commit forgery and fraud.
Costa Mesa, CA (PRWEB) June 06, 2013
TROY Group, Inc., a worldwide leader and expert in the printing and management of security documents, has been assigned a U.S. patent (8,405,882) for TROY Copy Evident Pantograph, a document security feature that prevents unauthorized copying. The dynamic pantograph is an effective copy prevention method that is document-based and can be produced on plain paper.
In most cases involving sensitive documents only the original has value. Advances in technology have opened numerous opportunities for creating copies with undetectable differences between the copy and the original. Watermarks have been a popular and effective method of determining the authenticity of a document when compared with a photocopy of the original document, where the differentiator between a watermarked original and its duplicate is the absence of the watermark on the copy; there is no way to compare a copy of a watermarked document without the original for comparison. Copy evident pantographs like TROY's are invisible to the untrained eye on the original document but when scanned or copied, tiny pixels appear to form a word, in this case "void" or "copy".
Prior to the introduction of pantograph technology, users who wanted to produce originals using a pantograph would be required to purchase special security paper that included a pantograph. The TROY Copy Evident Pantograph encodes pantograph messages on plain paper in real time during the print operation. The TROY Copy Evident Pantograph offers a background that produces acceptable results on a variety of monochrome and color copiers.
TROY Copy Evident Pantograph is just one of several security features found in TROY Secure Print Enterprise, a robust printing technology that combines the pantograph, microprinting and TROYmark, a variable watermark that repeats across a page. Combined with the pantograph's unauthorized copy prevention, the other technologies create multiple layers of security that create an indelible document. The TROY Copy Evident Pantograph offers copy prevention for any industry or business whose printing requirements include security and is perfect for securing documents such as:

Prescriptions and other medical documents
Certificates
Checks
Licenses, passes and permits
Registration documents
Judicial and legal reports
Corporate contracts, titles of ownership
Government issued identity documents
Tax documents
Insurance policy documents
Tickets and retail vouchers
Membership and validation documents
Accreditation certificates, share certificates
Travel documents, visa labels
Customs, shipping documents, bills of lading
Larry Landtiser, Executive Vice President and General Manager, TROY Group, Inc., said, "TROY Copy Evident Pantograph represents our commitment to developing progressive methods of document fraud deterrence. We continually develop innovations that help businesses stay a step ahead of those who find new ways to commit forgery and fraud."
About Troy Group
TROY Group, Inc. ("TROY") is a worldwide leader of secure on-demand printing solutions. TROY solutions manage, secure and simplify end-to-end enterprise printing environments. TROY offers application software, security printing hardware and specialized consumables for securely printing checks, money orders, transcripts, prescriptions and other important documents. TROY solutions are used by small and medium size businesses as well as large enterprises and governmental organizations to manage fraud, operational risk and comply with government regulations related to protecting information privacy. As a Platinum Solutions Partner to HP, TROY is the only company in the world authorized by HP to enhance HP printers and consumables for use in secure printing workflows. Only TROY MICR and Security printers and HP compatible MICR Toner cartridges are certified by HP for quality and reliability. We sell and service our products to major corporations, banks, key government accounts and distributors worldwide. Visit TROY at http://www.troygroup.com