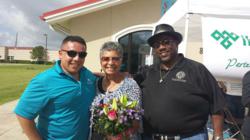 Beaumont, TX (PRWEB) June 06, 2013
The Ibn Sina Community Clinic in Port Arthur and Gulfside Dental are helping provide low-cost healthcare to Southeast Texas.
The Ibn Sina Foundation's Health Fair was held on Saturday, June 1st, At the Ibn Sina Clinic in Port Arthur, Texas. The fair drew local adults and children including Port Arthur Mayor, Deloris "Bobbie" Prince and Jefferson County Commissioner, "Everette" Bo Alfred. Guests took advantage of free health screenings and information from vendors such as Lamar University, HEB, Texas Children's Health Plan, Walgreens and Gulfside Dental.
The Ibn Sina Foundation was established in Houston in 2001 to bridge the growing gap between the health care needs of uninsured, underinsured, underserved, and indigent communities. The Foundation's mission is to ensure the health of the community by providing integrated preventive and primary care in a clinic setting through the dissemination and application of health related knowledge, thereby enhancing the quality of life for future generations. Since inception, Ibn Sina's Community Medical Clinics have provided medical and dental care to over 20,000 patients. The Ibn Sina Clinic in Port Arthur offers immunizations, health screenings, low cost lab services, and prescriptions are given free of charge if they are available. The clinic is looking forward to offering dental services in the next few years.
Gulfside Dental, a full service dental practice located in Beaumont, TX, attended the Ibn Sina Clinic Health Fair to answer oral health questions and let the public know about their low cash prices. "Because of increasing supply and lab costs, the cost of dental services is increasing. Since we (Gulfside Dental) are in a partnership with our laboratory and supply companies, we are able to pass those saving along to our customers," says Dr. Ashley DeMarco of Gulfside Dental. Gulfside Dental's fees average about 20-30% less than those at an average Southeast Texas private practice. Gulfside Dental treats patients of all ages and offers a range of comprehensive dental services including exams, X-rays, cleanings, dental implants, dentures, extractions, root canal treatment, periodontal surgery, crowns, bridges, as well as a variety of cosmetic treatments and orthodontic treatment.
For more information, visit http://www.Gulfsidedental.com or call 409-899-4867.
Gulfside Dental offers a comprehensive oral health program, including preventative, cosmetic and reconstructive dentistry for all ages as young as six months old. Gulfside Dental also specializes in: bridges and implants, extractions, dentures and partials, braces, emergency dental care, Snap-On Smile, LUMINEERS, and ZOOM whitening. Gulfside Dental accepts all major PPO insurances, most HMO Insurances, Medicaid, CHIPS, Texan Plus, HealthSpring, Care Credit, Visa, Mastercard, and Discover. Gulfside Dental is located at 4179 Dowlen Road in Beaumont, in the Barnes and Noble shopping center, across from Parkdale Mall.