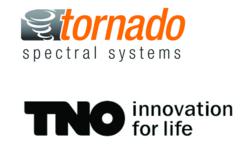 "we are very excited about the possibilities emerging from the new partnership between our Van 't Hoff medical shared research program and Tornado Spectral Systems" - Arnold Stokking
Eindhoven, Netherlands and Toronto, Canada (PRWEB) June 11, 2013
Tornado Spectral Systems (TSS) has become a partner in TNO's Van 't Hoff research program, which will benefit from the use of Tornado's high-performance spectrometer and hyper-spectral imaging products. The Van 't Hoff program is a collaborative research program amongst industry, government, and non-profit foundations focused on developing new medical applications for optical spectroscopy. While optical spectroscopy is a widely used analytical technique commonly deployed in security, energy, and industrial quality control, TNO's multi-year program is aimed at expanding this applicability more broadly into the field of medicine.
"TNO is a model example of the benefits of collaborative innovation, and Tornado is proud that the advantages of our patented spectrometer technology will enable advances in the field of medicine," said Dr. Bradley Schmidt, CEO of Tornado Spectral Systems. "We are gratified that TNO's researchers have recognized these breakthrough advantages, and look forward to supporting their efforts throughout the lifetime of the program."
"At TNO, we are very excited about the possibilities emerging from the new partnership between our Van 't Hoff medical shared research program and Tornado Spectral Systems," stated Arnold Stokking, TNO's Managing Director of Industrial Innovation. "We foresee that Tornado's innovative high optical throughput slit-less technology position will be an important aspect that can facilitate broader, high impact applications for spectral technologies in the medical world for the Van 't Hoff program and its partners."
About Tornado Spectral Systems Inc.
Founded in 2010, Tornado Spectral Systems develops optical spectroscopy solutions for sample identification, detection, diagnosis and imaging. With a proven partnership model, Tornado works with partners to develop ground-breaking solutions for high-performance optical systems, both in free-space spectroscopy and integrated photonics, or spectroscopy-on-chip. To learn more about Tornado, please visit http://www.tornado-spectral.com.