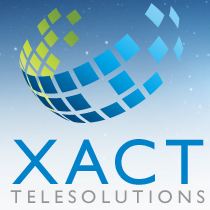 XACT continues to strategically deploy our workforce in all 4 time zones, protecting our clients from natural or disaster-driven events.
Unity, ME (PRWEB) June 11, 2013
XACT Telesolutions, provider of traditional and web-based call center solutions, has presence in all four time zones of the continental U.S. to protect its clients' businesses from natural and catastrophic events.
As a company that promises communication of accurate information between company and consumer, XACT realizes the importance of positioning its workforce across the country. Having call center specialists in one area makes a call center and its clients susceptible to the harmful effects of natural disasters like earthquakes, tornados and hurricanes. Because the bulk of telecommunication relies on exposed wires and devices, it's good to have specialists in other places that can take on the responsibilities of specialists in an afflicted area.
"XACT continues to strategically deploy our workforce in all four time zones, protecting our clients from natural or disaster-driven events," says Lynn Fick, president of XACT Telesolutions.
The U.S. continental time zones – Eastern Standard, Central Standard, Mountain Standard and Pacific Standard – are areas that Fick's company has presence in. If, for instance, a hurricane was to strike the East, call center specialists in a different zone could temporarily take over responsibilities. Also, if an earthquake affected telecommunications and online correspondence out West, specialists of XACT Telesolutions located elsewhere would ensure streamlined response to its clients' customers.
With over 100 years of combined experience, the call center service providers at XACT Telesolutions know how weather and other disastrous events can effect company operations. With a workforce scattered throughout the country, they make it their mission to ensure damaging events don't negatively affect their own operations or their clients'.
Underground telephone and internet wiring is starting to become popular within the United States. However, there is still close to two billion miles of telephone wire strung across the country. This makes call centers and its clients prone to problems, which is another reason XACT Telesolutions has decided to diversify the location of its operations.
Despite advancements in wiring concealment, harmful weather conditions will always pose a threat to anything with electrical currents coursing through it. Now, with call center specialists in every time zone of the continental U.S., XACT Telesolutions is ready to uphold its promise to its clients and clients' customers.
To learn more about the location of the company's operations in the four time zones, contact Kathy Gray, Director of Business Development, via email Kathy[dot]Gray[at]myxact[dot]com or by calling 217-670-2304.