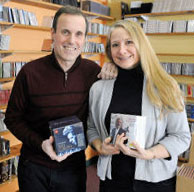 "Our motto, for both HBDirect and Expedition Audio, is concerned with exploring music. Our mission is to facilitate that adventure for others."
Waterbury Center, Vermont (PRWEB) June 06, 2013
Much has changed in the recording industry since 1988 when HBDirect opened for business. Back then, the CD was an emerging technology and people couldn't buy classical music online, and instead culled their selections from classical music catalogues to place orders by phone or by mail. It was from these humble beginnings as a mail order company that HBDirect has grown - launching the first online classical music store - to become an established name in the classical music scene.
Even while keeping up with the demanding changes of the industry, HBDirect has remained true to its roots. "We're lucky to have such a loyal customer base," said Paul Ballyk, owner and CEO of HBDirect. "We currently have customers who bought classical CDs from us during our first year in business." Customers can still call in and talk to a knowledgeable individual and mail in their orders like the good ol' days, or shop on HBDirect's easy-to-browse website for classical CDs and DVDs from labels and artists around the globe.
Recently, the company has begun to focus attention on smaller labels and recordings of unknown music, from the obscure masters of antiquity to the rising stars of the contemporary classical music scene, rather than the warhorses of the classical genre. "Our goal is to uncover uncommon gems and expose them to music lovers using Expedition Audio as our platform," said Paul Ballyk, referring to HBDirect.com's sister website, http://www.expeditionaudio.com. "We'll also help you locate difficult-to-find and rare recordings," referring to a service called "Music Find," where customers can submit requests for obscure recordings they have been unable to find themselves.
In its early years, HBDirect was located in San Antonio, Texas. Then in 1997, the company moved to Waterbury Center, Vermont, where it currently resides. The HB in HBDirect is an abbreviation for Haverstick and Ballyk, the surnames of founders and still owners Beverly and Paul. Beverly was a professional French horn player, having performed with the Florida Orchestra before joining the San Antonio Symphony. Paul was a trombone player with a huge record collection and a passion for listening to music. In an online music marketplace dominated by large discount sellers, HBDirect.com's background as professional musicians is essential to the business. Together, their enthusiasm for music infused the business' direction, and continues to do so today.
"Our motto, for both HBDirect and Expedition Audio, is concerned with exploring music. Our mission is to facilitate that adventure for others." With 25 years of experience under their belt, and a vision for the future, HBDirect believes enthusiastic music listeners will join their quest to explore the unknown and discover great music.
HBDirect.com and its sister site Expedition Audio are both Waterbury Center, Vermont based companies that provide music CDs, SACDs, DVDs and Blu-Rays to customers interested in all genres of music. Since 1985, HBDirect.com has consistently delivered product to customers with exemplary customer service as a small, family-owned Vermont company. For more information on HBDirect or Expedition Audio, please call 1-800-222-6872 or visit http://www.hbdirect.com.