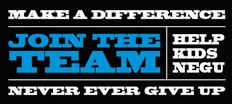 "Jessie lived her motto, Never Ever Give Up, every day. Anthem Blue Cross, as our family insurer, was there every step of the way in Jessie's fight," said Erik Rees, Jessie's Dad and Foundation CEO.
Rancho Santa Margarita, CA (PRWEB) June 05, 2013
This afternoon, Erik Rees, CEO of the Jessie Rees Foundation announced a $50,000 sponsorship by Anthem Blue Cross for the Foundation's July Never Ever Give Up (NEGU) for Kids tour of every Children's Hospital in California. Each stop will also include visits to Ronald McDonald houses or Boys and Girls Clubs across the state.
"Jessie's motto was Never Ever Give Up, and she lived it every day," said Erik Rees, Jessie's daddy. "Anthem Blue Cross, as our family insurer, was there every step of the way in Jessie's fight against cancer, and it's awesome to have them with us now to teach kids and adults how to Never Ever Give Up."
Starting on July 1 in Sacramento and through each stage of the four week trip, the Foundation will be joined by Olympic and professional athletes like four time Olympic and gold medalist Kaitlin Sandeno and the more than 30 athletes that have signed on as NEGU Superstars. The tour will distribute JoyJars filled with 15-20 new toys to kids who are in an oncology level of care, and, NEGU PowerPacks which allow kids in residential in patient care to transform their hospital room with linens, blankets, and athlete posters. At Boys and Girls Clubs, our athletes will help kids formulate their own Never Ever Give Up goals and talents.
"The Jesse Rees Foundation's good work closely mirrors Anthem's mission to help improve the health and lives of the people in our communities," said Pam Kehaly, president of Anthem Blue Cross. "Anthem was proud to partner with the Jesse Rees Foundation last winter to bring joy to hundreds of kids through their holiday JoyJar program, and we are honored to work with them to support their NEGU for Kids tour this summer."
Living by her now internationally recognized motto of 'Never Ever Give Up', Jessie decided very early in her treatment to care for courageous kids by encouraging them with her own creation, JoyJars, filled with toys. Completing 3,000 JoyJars personally during her 10 month fight, her NEGU spirit sparked an international movement which has now distributed more than 54,000 JoyJars on three continents (15 countries), 202 American children's hospitals, and every Ronald McDonald house in America.
"Last year, Anthem Blue Cross's generosity and creative partnership allowed us to distribute over 20,000 Holiday JoyJars, and now, their creativity and partnership will allow us to engage healthy kids in the caring for courageous kids with cancer and other illness," continued Erik Rees. "When kids facing huge challenges understand how much people care, they develop a resilience factor which research has shown positively impacts healing and future success. This tour is about engaging kids and get them to Never Ever Give Up."
Spanning all four weeks in July, the tour will start in Northern California and stop in every community with a Children's Hospital. While at the hospital, the Foundation and celebrity Superstars will distribute JoyJars to in patient children under oncology levels of care. While in the area, the tour will also hold events with athletes, leaders and others at Boys and Girls Clubs, businesses and elsewhere to collect toys, stuff mini-JoyJars, and teach every participant to Never Ever Give Up!
About the Jessie Rees Foundation http://jessie.org
Founded in 2011 by Jessie Rees and her family during her fight with inoperable brain cancer, the Foundation helps kids Never Ever Give Up in their quest for healing from cancer. Distributing Jessie's JoyJars © through 202 children's hospitals, and every Ronald McDonald House in the US, the Foundation has provided over 50,000 JoyJars to kids and families through the support of major corporate partners UPS, Life Technologies, youtheory and others. The Foundation has provided 100% of the JoyJars at no cost to the hospital or recipients and is completely funded through private donations.
CONTACT:
Jeff Gibson (949) 851-8511
jgibson(at)race(dot)com
###