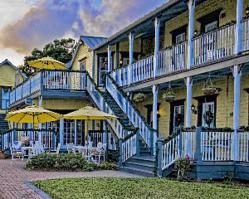 House concerts allow you to not only hear your favorite musicians, but to interact with them as well.
St. Augustine, FL (PRWEB) June 10, 2013
Francis Dunnery, an English musician, singer-songwriter, record producer and record label owner, will be performing a house concert on Sunday, June 23, at the Bayfront Marin House, a bed and breakfast in Saint Augustine, Florida.
Dunnery is best known as a solo performer, and for fronting the original lineup of the band It Bites between 1982 and 1990.
"My wife and I have been fans of Francis Dunnery since we saw him perform in Philadelphia several years ago," says Mike Wieber, owner of the waterfront bed and breakfast in St. Augustine. "Last year, we heard that he was interested in performing in very small venues in the United States, and we contacted him to see if he'd be interested in playing in America's oldest city."
Dunnery performed at the bed and breakfast in April 2012. Concert promoters contacted the Wiebers in early 2013 to see if they would host a second show.
"It was great to see a world-class musician in such a small venue," says Wieber. "You really have a chance to hear him, see his shredding skills up close, and interact with him as he's performing."
This year's concert will be held in the bed and breakfast's dining room from 7:30 pm until 9:00 pm on June 23. Dunnery will be performing his "Gulley Flats Boys" tour.
Dunnery served as a sideman and musical contributor for artists as diverse as Robert Plant, Ian Brown, Lauryn Hill, Santana and Anderson Bruford Wakeman Howe. He has worked as producer and/or collaborator with David Sancious, Chris Difford (of Squeeze), James Sonefeld (Hootie and the Blowfish), Erin Moran (better known as A Girl Called Eddy), and Steven Harris (ex-The Cult, Zodiac Mindwarp and the Love Reaction). In addition, Dunnery owns the Aquarian Nation record label.
For more information, or to order tickets, please contact the Bayfront Marin House at 904.824.4301 or info(at)bayfrontmarinhouse(dot)com. Tickets are $30 for the general public, and $20 for bed and breakfast guests.
The Bayfront Marin House is a 15-room bed and breakfast located on the water in St. Augustine, FL. They were recently awarded a TripAdvisor Certificate of Excellence.