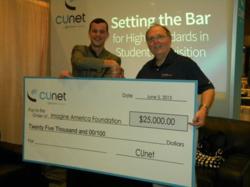 Paramus, N.J. (PRWEB) June 06, 2013
Today at the annual convention for the Association of Private Sector Colleges and Universities (APSCU), CUnet and the Nelnet Foundation presented the Imagine America Foundation (IAF) with a $25,000 donation to provide scholarships that help students continue their studies at career colleges nationwide. The donation will help fund the Imagine America Promise scholarship program, which provides grants to students who show a strong dedication to their program of study through good grades and consistent attendance records.
"Nelnet's mission is to make educational dreams possible," said Todd Eicher, Executive Director of Nelnet Enrollment Solutions. "Creating educational opportunities for students has always been, and will continue to be, the focus of our philanthropic efforts."
Nelnet has provided grants annually to IAF since 2009. To date, the Foundation has contributed $145,000 to the Imagine America Promise scholarship program.
Every year, IAF awards scholarships to dedicated students to help fund their education. Since its inception in 2002, the Foundation's Promise scholarship program has provided more than $650,000 in grants, supporting nearly 800 students in their educational endeavors. The Promise scholarships are funded entirely by sponsors like CUnet and the Nelnet Foundation.
"We are grateful for the continued support," said Robert L. Martin, President and CEO of the Imagine America Foundation. "Because of generous donations from our sponsors, we can continue to assist dedicated students achieve educational goals."
About the Imagine America Foundation
The Imagine America Foundation (IAF), established in 1982, is a not-for-profit organization dedicated to providing scholarships for education, research and training support for the career college sector. Since its inception, the Foundation has provided more than $75 million in scholarship and award support for graduating high school seniors, adult learners and U.S. military personnel attending career colleges nationwide through its award-winning Imagine America® programs. The Foundation also publishes vital research publications for the higher education sector, honors achievement in career education and offers faculty development training. For more information about the Imagine America Foundation's programs, please visit http://www.imagine-america.org.
About CUnet
For almost a decade, CUnet's enrollment marketing experts have helped colleges and universities reach, recruit and enroll the best students for their programs. With the industry's leading technology platform, a comprehensive set of online marketing services and a network of targeted media providers, CUnet partners with higher education institutions to deliver student candidates, holding itself accountable to lowering overall acquisition costs while driving enrollment growth. CUnet's recruitment marketing services are supported by a network of proprietary websites, including their flagship site, CollegeInfo.com, and the CollegeQuest.com student advisor service. CUnet is dedicated to providing the highest standards of transparency and compliance while promoting ethical marketing practices in postsecondary education. Headquartered in Paramus, N.J., CUnet is a subsidiary of Nelnet (NYSE: NNI), a leader in education planning and financing for more than 30 years. For more information, visit http://www.cunet.com.
About Nelnet Foundation
The vision of the Nelnet Foundation is to support educational dreams through charitable contributions and scholarships. It provides financial assistance to expand educational possibilities for youth and adults and support for community-focused programs and organizations. For more information about the Nelnet Foundation, please visit http://www.nelnet.com.
###