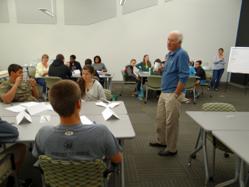 "Food scientists touch nearly every single item you eat or drink on a daily basis," said Tim Andon of TIC Gums, Inc.
White Marsh, MD. (PRWEB) June 06, 2013
Fourteen high school juniors from Harford County Public Schools in Maryland will see their original ice cream flavors manufactured and offered for sale to the public starting Friday, June 7, 2013 for four consecutive weekends. Divided into 4 teams, the students learned about the process of making ice cream from start to finish including: flavors, inclusions, production, and marketing from food industry professionals and Cornell University professors. The winning flavor among the four, Crunchy Caramel Chaos, will be offered to the public first with the remaining three to follow on consecutive weekends. The student-developed flavors will be available at program partner Broom's Bloom Dairy located on 1700 South Fountain Green Road, Bel Air, Maryland (http://www.bbdairy.com/).
TIC Gums Ice Cream University is a joint community service program partnering with Cornell University's Food Science department, David Michael and Company, Star Kay White, Broom's Bloom Dairy, and Harford County Public Schools to help introduce students to food science through creating their own ice cream. The university was held during 5 consecutive Saturdays from April through May, 2013 at the TIC Gums, Inc. Texture Innovation Center in White Marsh, Maryland. Select high school students learned how to formulate, manufacture, and market their own brands of ice cream to consumers. The cost of the classes was paid for by the program sponsors. Plans are underway to repeat the Ice Cream University in 2014.
Four New Varieties
The original plan was to hold a judging contest at the end of the class with the winning flavor then produced at Broom's Bloom and available to the public. However, upon tasting all four flavors, Broom's Bloom owner Kate Dallam was so impressed that she graciously offered to produce all four flavors. The other three flavors that will be available are: Graham Canyon, Very Berry Flapjacks, and Crispy Apple Pie. The TIC Gums Ice Cream University is a unique program in the industry as it gives high school students the opportunity to go from ideation to actual production and sales of a commercially produced food.
Increasing Food Science Awareness
Food science is a field that isn't well known by the public despite its huge impact on the food we eat every single day. "Food scientists touch nearly every single item you eat or drink on a daily basis," said Tim Andon of TIC Gums, Inc. "Despite this, food science is often overlooked as a potential career path. We want to help build awareness among local students about the field and also how enjoyable it is. What better way to do that than through ice cream?" Andon concluded.
Real World Product Development
During the course, scientific principles such as emulsions, osmosis, specific gravity, freezing point depression, overrun calculation, ice crystal formation, and statistical know-how for tracking and maintaining quality were taught. After learning the basics of ice cream development and manufacture, the focus turned more towards the creative side of food science like flavor selection, texture modification, addition of inclusions, packaging, marketing, and sales. One of the greatest benefits for these students is that the skills they learn through ice cream flavor development will translate easily into other food types.
About TIC Gums
TIC Gums is a global leader in advanced texture and stabilization solutions for the food industry. Food and beverage companies rely on TIC Gums to improve the texture, stability, consistency, nutritional profile, and shelf appeal of their products. Legendary customer service, high quality standards, and the unrivaled knowledge of our Gum Gurus® have made TIC Gums the industry leader for more than 100 years.