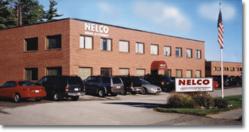 We believe that the interactive display intertwined with user-friendly purchasing features will make a lasting impression on visitors.
Pembroke, MA (PRWEB) June 05, 2013
Nelco Products, Inc., the manufacturer and distributor of the largest selection of cable ties, wire ties, heat shrink tubing, wire connectors, cable tie mounts, HVAC supply products and related wiring accessories worldwide, has announced that the company has launched its new website at http://bit.ly/13a4JPs. Designed with the customer in mind, the website promotes a higher level of customer satisfaction through mobile-friendly capabilities, as well as a fully-functional RFQ/e-commerce system.
The new website will provide visitors with a conveniently accessible format to browse, request a quote, and subsequently purchase from the company's large product line. The unique website features include a mobile interface, which allows users to retrieve quotes from anywhere at any time, and a product comparison tool, which compares the technical specifications of up to four products side by side to reduce research time.
The website utilizes an easy-to-use Request for Quote (RFQ) system, as customers can add multiple items to a single RFQ. Customers need to fill out the RFQ information only once, instead of several times to get a multi-item quote. Sales representatives will be able to respond to quotation requests with significantly faster turnaround times.
Additionally, to improve navigation, the website features a breadcrumb navigation design. Categories and subcategories from the earlier website have been regrouped to increase search efficiency. Current site structure replicates the listings in Nelco Products' offline brochure to a significant extent.
Built on the state-of-the-art Content Management System (CMS), the modernized, user-friendly and easily navigable website speaks directly to Nelco Products' mission of quality and service beyond conventional measures. As an employee-owned and operated business, the redesigned site aligns with the company's desire to provide personalized and professional customer service at every stage of business to exceed each customer's specific needs.
QUOTES:
"We are very excited to launch the newly designed Nelco Products website," said Todd Cowden, national sales manager for Nelco Products. "We believe that the interactive display intertwined with user-friendly purchasing features will make a lasting impression on visitors. These efforts reflect our passion for providing exceptional service combined with the largest selection of products for varying applications and industries."