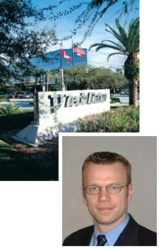 This partnership will enhance our ability to deliver faster service to our solution providers
Clearwater, Florida (PRWEB) June 11, 2013
Tech Data Corporation is one of the world's largest wholesale distributors of technology products. Ranking 119th on the Fortune 500® and generating $25.4 in net sales, Tech Data services over 120,000 resellers in more than 100 countries.
Success in technology distribution requires a relentless drive for operational effectiveness and efficiency. Tech Data has long been a leader in these areas, investing in technology innovations and global systems to lower costs and ensure excellent service delivery.
Tracker Networks is pleased to announce today that Tech Data Corporation has signed an agreement to expand their use of the PriceTracker system to automate the use of manufacturer promotions and special price agreements.
Tech Data receives thousands of manufacturer special bids during its daily operations that must be quickly and accurately quoted to resellers and the end users they support. Each manufacturer has their own method for communicating discounts, and the rules for claiming rebates can be complex. Managing these special bids requires intense manual effort and can lead to delayed or missed quotes. Bids always carry the potential for costly pricing errors.
The PriceTracker system allows distributors to automatically import special bids from over 150 manufacturers. The system validates bid data, performs analysis, sends notifications and loads bid data into a customer's internal systems. PriceTracker customers quote faster and produce more quotes – all while lowering risk and processing costs.
"We are pleased to offer our solution providers improved service through our partnership with Tracker Networks," said David Spindler, Director eBusiness North America & Latin America at Tech Data. "This partnership will lower our costs and enhance our ability to deliver faster service to our solution providers."
"We are delighted to be working Tech Data in the US, Canada and around the world," said Roger Mahabir, Chief Executive Officer at Tracker Networks. "It is truly gratifying to work with such forward thinking professionals. We look forward to broadening and deepening this great partnership and continuing to innovate with Tech Data globally."
About Tech Data
Tech Data Corporation is one of the world's largest wholesale distributors of technology products, services and solutions. Its advanced logistics capabilities and value added services enable 120,000 resellers in more than 100 countries to efficiently and cost effectively support the diverse technology needs of end users. Tech Data generated $25.4 billion in net sales for the fiscal year ended January 31, 2013, and is ranked 119th on the Fortune 500®. To learn more, visit http://www.techdata.com.
About Tracker Networks
Tracker Networks Inc. is an innovative and fast growing software company headquartered in Toronto, Canada. The PriceTracker and RenewalTrack systems import and track thousands of quotes and contracts per day, for over 150 manufacturers and many leading IT organizations in Canada, the US, Europe and Asia. The IT Tracker system helps CIOs and other business executives to track equipment, services, contracts, resources and costs – to find ways to lower costs, improve service and increase revenue. To learn more, visit http://www.trackernetworks.com
Contact
For Tracker Networks
Jason Doel
EVP & COO
(416) 848-7347
jason.doel(at)trackernetworks(dot)com
For Tech Data Corporation
Amanda Little
Public Relations Manager
(727) 538-5803
amanda.little(at)techdata(dot)com