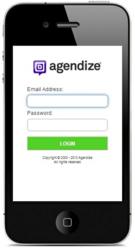 It is now possible to manage online appointment bookings, staff, resources and communicate with clients via powerful tools directly on your smartphone. With Agendize, Manage your business on the go!
Montreal (PRWEB) June 06, 2013
Agendize introduces a dedicated mobile version of its website and software suite, Agendize Anywhere, which enables its audience of Digital Agencies, Resellers, Hosting Providers, Telcos and end-user SMBs around the world to access the most comprehensive suite of online interaction tools from any mobile device.
The new mobile experience has been designed for both new and existing users, whether looking to discover Agendize online features, or access their Click-to-call, Live Chat, Online Appointment Scheduling, and more, while on the go.
Engagement tools and mobile websites: inseparable assets for ecommerce.
According to a survey conducted by Ericsson, the number of subscriptions to smartphones could increase from 900 million at the end of the year 2012 to 5,000,000,000 in 2016. Whatever the future number will be, we can be certain this is a high-growth area. The mobile version is available at m.agendize.com, with automatic redirects from the regular site when approached by a mobile device. Designed generically, so it is compatible with almost any device type, Agendize Anywhere provides a compelling user experience, whether accessing the website and service via iPhone, Android, or other smartphone device. Existing subscribers may register for access, or use their existing account details to gain access to the dedicated mobile suite, whereas new subscribers may learn about the company, its services and features, as well as try any service free for one month – including the popular Online Appointment Scheduling, Click-to-call, and Live Chat features, as well as utilize powerful back-office features such as CRM, Analytics, and more.
SMB's, resellers: manage your business on the go.
Agendize Anywhere is built on the same foundation as the company's existing platform: it's intuitive, straight to the point, and promotes call-to-action. By enabling a world of customer relationship opportunities, anywhere, anytime, our audience of Resellers, Digital Agencies, Hosting Providers, and Telcos, and their SMB end-users, will be able to use the full service from their mobile device, as well as providing a compelling discovery service for new users. Using the new Agendize Anywhere back-office via mobile, it is now possible to manage Online Appointment Bookings, Manage Staff & Resources, Communicate with clients, etc. via powerful tools that include Calendars, CRM and Analytics. Furthermore, users may even customize and deploy Agendize services directly from their mobile device, putting the power to convert online visitors into customers in the hands of businesses when and where they need it.
About Agendize
Agendize is a one-stop shop for easy-to-install, simple-to-use, customer service software and engagement tools, helping small to large sized organizations convert site traffic into business and allowing consumers to interact with businesses around the clock. Tools like Click to Call, Online Scheduling and Live Chat help you improve communications with those that matter most, customers.
Agendize was founded in 2003 and serves over 20 countries worldwide. Our talented team is distributed around the world in four regional offices. Our HQ is in France. We also have offices in Montreal, Canada, Brussels, New York and Mexico City.