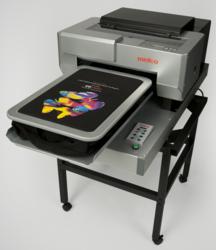 The G3 is the best solution for short-run and one-off t-shirt orders.
Westminster, CO (PRWEB) June 07, 2013
Melco announces the release of the new G3 T-shirt Printer. This is the 3rd generation in their line of t-shirt printing equipment. Based on success with the G2 in the U.S., Melco has continued to invest in the latest Epson-based technology for t-shirt printing.
What does this mean to those who are considering an inkjet t-shirt printer?
It means that a fast and user-friendly direct to garment t-shirt printer is now available to business start-ups, screen printers, embroidery shops and other entrepreneurs for less than $20,000.
Additionally, G3 is designed to reduce printing costs. It uses a refillable ink cartridge system, which enables businesses to reduce printing costs by purchasing ink in bulk. The entire system is pressure-sealed. Air is locked out, protecting the print head from contamination. According to Chris Fenton, Melco's Customer Service Manager, the G3 is one tough machine; "Here in Denver, Colorado, Melco is located one of the most inhospitable environments for direct to garment printers. The air is thin and the climate is dry. To test the ink system, we left a G3 sitting with ink in the lines for over 3 months, plenty of time to ruin a print head. Then we powered up the machine, ran one power clean cycle, and the printer produced a perfect nozzle check. That's pretty amazing."
Maintenance procedures have also been simplified. A three-minute cleaning session is all that's required for regular maintenance after each print session is complete. The warranty on the print head has been increased to six months, double what similar machines can offer.
Print speeds have been improved. When compared with its predecessor, the new G3 is approximately 20% faster. Users can expect to print up to 20 dark shirts per hour, or up to 60 light shirts per hour for most applications.
G3 is available for purchase now. It includes MelcoRIP t-shirt printing software, onsite training, ink and cleaning accessories. Please visit Melco.com today for more information. Click here for a short video.