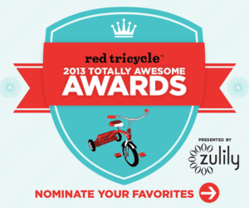 "Red Tricycle is dedicated to helping parents have more fun with their kids by offering the latest in things to see, eat and do in their neighborhood—and the Totally Awesome Awards program is an organic extension of that,"
San Francisco, CA (PRWEB) June 06, 2013
Red Tricycle today announced the launch of the 3rd Annual Totally Awesome Awards—an online voter-driven awards program recognizing the best parenting brands, products, neighborhood services and local resources for families with children 0-10. This year's awards are presented by zulily, the leading daily deals site for moms, babies and kids offering up to 70% off top brands alongside hard-to-find boutique brands. New zulily sales launch every day, filled with quality clothing, toys, décor and more. The Totally Awesome Awards are now open for nominations for the Most Awesome local businesses in New York, Seattle, San Francisco, Portland, San Diego, Chicago, Los Angeles, Atlanta, Dallas, Denver, Washington D.C. and Boston, and the Most Awesome baby & kids essentials nationwide.
Driven by an audience of active and engaged moms, this year's Totally Awesome Award categories range from local bests (Easiest Drop-off Childcare and Coolest Camps for Kids) to all-time favorites (Comfiest Cribs & Beds and Freshest Maternity Fashions). Featuring 90 different voting categories, the 2013 awards will generate the largest viral impact in local and national parenting communities, with over 10 million social media impressions created during the 2012 awards.
"Red Tricycle is dedicated to helping parents have more fun with their kids by offering the latest in things to see, eat and do in their neighborhood—and the Totally Awesome Awards program is an organic extension of that," says Jacqui Boland, Founder and CEO of Red Tricycle. "We're thrilled to partner with zulily on the Totally Awesome Awards because, like us, they make moms' lives easier by bringing the best deals on the highest quality products, accessories and styles straight to your inbox."
Red Tricycle and zulily will be promoting the awards through their social media channels. With over 6,000 participating businesses, blogs and websites, Red Tricycle expects the awards to attract over 200,000 voters over a ten-week period as well thousands of tweets, Facebook likes and shares.
Totally Awesome Award winners will be announced on the Red Tricycle Awards website (http://awards.redtri.com) and via a series of Red Tricycle newsletters that begin on September 1, 2013.
To nominate a local business, product, service or online resource, visit awards.redtri.com now through June 3, 2013 thru August 15, 2013.
About Red Tricycle:
Founded in 2006, Red Tricycle (http://www.redtri.com) is a digital media company that provides authoritative, localized content (things to do, see, eat or buy with kids in a city) to its growing online community of busy urban moms through a variety of communication devices: email, website, social media, RSS, mobile. Their mission is simple: To help parents have more fun with their kids.
About zulily
zulily (http://www.zulily.com) is the leading daily deals site for moms, babies and kids. Membership is free and zulily sales launch daily, filled with quality clothing, toys, décor and more. Top brands are offered alongside boutique brands, giving moms the chance to outfit their families with unique finds. Founded in 2009, zulily has become a global shopping destination. zulily is headquartered in Seattle with offices in Reno, Columbus and London.