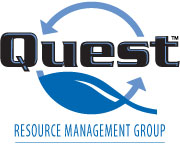 Frisco, Texas (PRWEB) June 06, 2013
Quest's sustainability director, Sandra Heffernan, is the keynote speaker today at the Greater DFW Recycling Alliance luncheon as the winners of the 2013 Recycling Leadership Awards are honored.
Sandra is pleased to have been asked to speak and will present on the history of recycling, how end use markets have evolved, how businesses and organizations are demanding more out of their tracking and reporting for landfill diversion, and the strategic programs surrounding organic waste recycling.
Sandra is often asked to speak at events such as this because of her industry knowledge, passion for conservation, and more than 25 years of commercial real estate experience, including playing an integral role in developing one of the first privately held LEED Certified Core and Shell Platinum buildings in the United States.
About Quest - (http://www.QuestRMG.com)
Quest Resource Management Group is a full service environmental consulting and management company, headquartered in Frisco, Texas. Quest helps Fortune 500 companies to maximize profits and mitigate risks, while minimizing their ecological footprints. Quest clients span across all key industry segments, including food services, hospitality, healthcare, manufacturing, construction, automotive aftermarket and fleet industries. Quest provides North American clients with comprehensive sustainability programs, innovative recycling solutions and proven environmental protection.
Quest prides itself in delivering targeted solutions exclusively tailored to the needs of each respective client. Quest also offers Return on Investment (ROI) and Return on Sustainability (ROS) based road maps to help clients design actionable programs for managing RFPs, defining operational protocols, creating and implementing training programs, and defining best practices. Quest's Sustainability Intelligence™ Dashboard helps clients improve decision making by extracting greater insights through unsurpassed business intelligence.
###