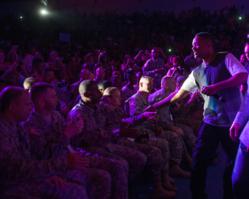 Arlington, VA (PRWEB) June 06, 2013
In honor and celebration of our nation's armed forces, Columbia Pictures partnered with the USO and treated thousands of troops and their families to a Special Screening at Fort Hood on the opening day of their action adventure "After Earth." Complete with a feature length showing of the film and a special visit by actors Jaden Smith and Will Smith, those in attendance were treated to unique performance by father and son for the troops.
DETAILS:

The "After Earth" USO Special Screening took place at Abrams Gymnasium on Fort Hood and was attended by 2,500 soldiers and their families.
Prior to the event, Jaden and Will met privately with National Gold Star Families as well as families of the Fort Hood Warrior Transition Brigade. The pair also spent time with base leadership, learning about the history, importance and operations on Fort Hood.
The event kicked off with an insightful Q&A, where father and son revealed what it was like filming "After Earth" and working together. Just before the screening, Jaden and Will entertained the troops with their performance. The evening concluded with some heartfelt remarks by the Smiths and the screening of their new film. The event marked the first USO experience for Jaden and Will.
To read more about the event visit http://www.uso.org/jaden-will-smith-after-earth-fort-hood-photos/.
In "After Earth," a crash landing leaves teenager Kitai Raige (Jaden Smith) and his legendary father Cypher (Will Smith) stranded on Earth, 1,000 years after cataclysmic events forced humanity's escape. With Cypher critically injured, Kitai must embark on a perilous journey to signal for help, facing uncharted terrain, evolved animal species that now rule the planet, and an unstoppable alien creature that escaped during the crash. Father and son must learn to work together and trust one another if they want any chance of returning home. Columbia Pictures presents an Overbrook Entertainment/Blinding Edge Pictures production directed by M. Night Shyamalan from a screenplay by Gary Whitta and M. Night Shyamalan and a story by Will Smith, and produced by Caleeb Pinkett, Jada Pinkett Smith & Will Smith, James Lassiter, and M. Night Shyamalan.
The USO strives to deliver life-changing experiences for troops and their families around the world, like this "After Earth" USO Special Screening at Fort Hood featuring blockbuster stars Jaden Smith and Will Smith. Visit uso.org/honor-salute-celebrate between Memorial Day and the Fourth of July to learn ways you can help the USO honor, salute and celebrate the accomplishments and valor of our deployed troops, military families, wounded, ill and injured troops and their caregivers and families of the fallen.
MULTI-MEDIA:
Tour Photos: http://bit.ly/184hsGG
USO Fact Sheet: http://bit.ly/Y3YoUi
###
About the USO
The USO lifts the spirits of America's troops and their families millions of times each year at hundreds of places worldwide. We provide a touch of home through centers at airports and military bases in the U.S. and abroad, top quality entertainment and innovative programs and services. We also provide critical support to those who need us most, including forward-deployed troops, military families, wounded warriors and families of the fallen. The USO is a private, non-profit organization, not a government agency. Our programs and services are made possible by the American people, support of our corporate partners and the dedication of our volunteers and staff.
In addition to individual donors and corporate sponsors, the USO is supported by President's Circle Partners: American Airlines, AT&T, Clear Channel, The Coca-Cola Company, Grand Canyon University, jcpenney, Jeep, Kangaroo Express, Kroger, Lowe's, Northrop Grumman Corporation, Procter & Gamble and TriWest Healthcare Alliance and Worldwide Strategic Partners: BAE Systems, The Boeing Company, Lockheed Martin, Microsoft Corporation and TKS Telepost Kabel-Service Kaiserslautern GmbH & Co. KG. We are also supported through the United Way and Combined Federal Campaign (CFC-11381). To join us in this patriotic mission, and to learn more about the USO, please visit uso.org.
Twitter Pitch: @officialjaden and Will Smith honor, salute and celebrate military families @AfterEarth @the_USO special screening @FortHood