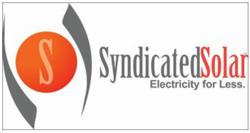 "Right now we see California as one of the only truly sustainable solar markets in the country," said Syndicated Solar CEO Justin Pentelute.
(PRWEB) June 05, 2013
Syndicated Solar, national provider of high-quality commercial and residential solar power systems, has recently announced plans for expansion into Northern California. Their office will be based out of San Martin near Morgan Hill, CA. Syndicated Solar will offer California residents options for less expensive electricity rates. Initially they will work primarily with PG&E customers in and around the greater San Jose and up into Sacramento (along with some of the other smaller municipal electricity providers such as Santa Clara Utility customers) with future plans to serve the entire state. This comes as good news to residents of California, who have been hard-hit with rising energy costs and are seeking viable, sustainable, low-cost renewable energy alternatives.
"Right now we see California as one of the only truly sustainable solar markets in the country. Even though they have added more solar than any state, there are still so many customers who are overpaying for their electricity and are waiting for a good company to come along that they know they can trust," said Syndicated Solar CEO Justin Pentelute. "We want to be that company."
Founded in 2009 on the western slope of Colorado in Grand Junction, Syndicated Solar has since become one of the fastest-growing and most-trusted solar energy companies in the nation. Their commitment to innovation, low costs, and unwavering customer service has set them apart from many in the booming solar power industry. California represents a significant opportunity for the rising company, as it seeks to plant permanent roots in the region.
Working with an established San Francisco-based partner, Syndicated Solar will be able to offer California homeowner's significant savings through the organizations financial service offerings. Syndicated Solar is able to offer a variety of options that allows customers all over the country to take advantage of residential solar at little-to-no out-of-pocket expense. In California 74% of residents choose to go solar through third party financing models and all across the country these models are gaining popularity.
California residents are reported to pay some of the highest average utility rates in the nation. According to Pacific Gas and Electric (PG&E), Northern California's largest utility company, their top residential rate could reach a staggering 54¢/kWh, by 2022. Residents without solar are predicted to be some of the hardest-hit, with massive rate hikes of as much as 20% or more expected in the not-so-distant future.
In recent years, these economic realities have helped spur demand for cheaper energy alternatives throughout the state. Concurrently, production costs for solar panel systems and solar panel installation costs are at historic lows. Because of these exceptionally high average residential utility rates, Syndicated Solar is able to provide California's customers with substantial savings (without rebates or incentives) at little-to-no cost to them.
Syndicated Solar seeks to be a significant part of California's renewable energy future. "We don't want consumers to view us as just another solar company. We see ourselves as a lower-cost alternative for homeowners to get their electricity for less." Pentelute adds, "Solar is just our means to do that."
To facilitate their long-term growth in California, Syndicated Solar is set to implement their "Authorized Integrator" program. This policy is designed to immerse the company into the local economy, facilitate building strong local relationships, create jobs locally and to guarantee that they only work with reputable companies, familiar with the local utilities and building departments. They thoroughly screen all of the solar power installation companies that they work with to ensure best practices.
Syndicated Solar is looking forward to being an integral part of California's ascent into renewable energy independence. Their dedication to excellent customer service, along with their long-term aspirations, is set to give the solar power company a unique edge in the Californian market. In addition, their size has afforded them substantially low overhead and operating costs, thus maximizing the savings that get passed on to their customers.
As base utilities costs continue to rise in California, Syndicated Solar is committed to bringing the Golden State the low-cost solar solutions it demands.
About Syndicated Solar
Founded in August of 2009, by CEO and owner, Justin Pentelute, Syndicated Solar has since grown into a nationally-recognized leader in residential and commercial solar installations. They are dedicated to providing excellent customer service and high-quality products at competitive pricing. They offer customers choices to buy their own solar system or take advantage of their PPA options. Headquartered in Denver, CO, they operate four fully-functioning regional offices to increase customer service. For more information, visit http://www.syndicatedsolar.com/ or follow them on Facebook, Twitter or LinkedIn.